The 16-year old Skip Barber Summer Series champion made it to the finals of the Mazda Club Racer Shootout.
Sam Adams's racing career could have gone down a very different path, considering what first piqued his interest in the sport. It was a die-cast model of a NASCAR stock car that got him interested. Not the model itself, so much, but rather seeing the same car on TV as his father watched a race was what really grabbed him. "I don't know why, but it just kind of stuck with me," he says.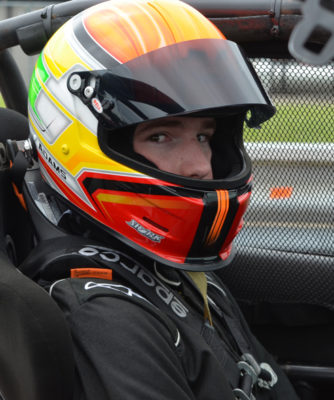 Now the 16-year old is preparing to race in the Skip Barber MAZDASPEED Pro Challenge in the Idemitsu Mazda MX-5 Cup Presented by BFGoodrich® Tires. He partially earned the opportunity by winning the Skip Barber Summer Series that runs in identical cars to the MAZDASPEED Pro Challenge.
"I started in karts at eight years old," Adams says. "I was pretty good in karts; I was pretty consistent and always finished in the top two or three. When I was 14, I did a three-day school at Skip Barber at Road America. I learned a lot about actually racing cars vs. karts. Then I did a couple of two-day advanced schools at Sebring and Road Atlanta."
When Adams joined the Summer Series, it took him a couple of races to get fully up to speed. But once he did, there was no holding him back.
"I started out a little bit off speed at the third and fourth rounds at Mid-Ohio. I finished fourth, then I picked it up a little bit in the second race and finished second. Going to Putnam Park, I was trying to pick up where I left off at Mid-Ohio. It was a double race weekend and we had four races. I basically maxed out my practice time by doing all the practice sessions and qualifying and race. I ended up winning all four races. That was one of the highlights, getting my first win, but also winning all four at Putnam Park," Adams says.
He went on to win two races at Road America and one in the penultimate round at Lime Rock before backing off in the finale to ensure his championship. Overall, he's pretty darn happy not only with his results, but the experience as a whole.
"I think Skip Barber does a really great job providing one-on-one instruction with all the competitors. I think competitors go to the racing school and learn to race, and then at the race, it's just racing. But even at the race weekend, the instructors offer you a lot of instruction. They still go out to every corner. It really helped a lot, especially learning how to race a 30-minute race, because when I was in karts, the races would last for 5 or 10 minutes. It really taught me good racecraft," he says.
Adams looks at the similar path to his that 2014 MX-5 Cup champion Kenton Koch took, and sees a career path for himself. Eventually he'd like to win a championship at one of the premier levels of American racing, whether it be the TUDOR United SportsCar Championship, NASCAR or IndyCar Series. But before he gets there, he'll be finishing high school and looking toward college, eyeing a degree in business or mechanical engineering – and working on making it to the next rung of the Mazda SportsCar Racing Academy.