Two virtual racers showed up at the Mazda Club Racer Shootout courtesy of iRacing; their performance proves that racing sims have come a long way.
If the last computer-based racing game you played was Pole Position, the idea that someone could jump from behind a computer screen to behind the wheel of a racecar rather seamlessly is ludicrous. In the current world of iRacing, where it's no longer a game but a simulation of the real thing, the idea is not so far-fetched.
"iRacing is unlike any other video game or simulator out there. I'm the marketing guy, so this is going to sound like marketing speak, but we're the most accurate," explains iRacing's Kevin Bobbitt, the Director of Marketing. "We laser scan our tracks, so any track that you have in iRacing is literally millimeter accurate. The same level of detail goes into the cars we build. The MX-5 [Cup car] that we built, we built with data from Mazda. Every car that we have is licensed, so we use CAD data, we use engine data, we use aero data, and then we'll work with teams to get data from them. So we start with a car that's built exactly the way Mazda says it is, then we go to the teams and say, 'How do you set them up?' We'll get data from teams and we'll get drivers that actually race these things in the real world to say, 'Yeah, that drives like it, you built it right,' or 'We might need to tweak this a little bit.' Then we can make adjustments to make sure the car handles the proper way."
Thus a couple of drivers – without a lot of real-world experience who were also the winners of an iRacing season of MX-5 Cup competition – were able to step into the real cars at Buttonwillow Raceway Park and not only not make fools of themselves, but acquit themselves admirably. Steven Diem and Evan Maillard showed up at the Mazda Club Racer Shootout and were able to run competitive times. Although each does have some racing experience, their combined laps are a blip on the radar compared to some of the other contenders.
"They're driving the same car. The same inputs you need to drive the real MX-5, you need to use in iRacing. It's not just a video game where you mash the gas, go, turn the wheel and it magically sticks. If the MX-5 has grip in a particular corner in the real world, it has it in iRacing. If you can drive flat through a particular corner, you can do that in iRacing."
A couple of years ago, when he was competing in MX-5 Cup, Elliot Skeer, who now drives on occasion in the Continental Tires Sports Car Challenge for CJ Wilson Racing and also serves as a driver advisor for the team, set the pole for a race at Mazda Raceway Laguna Seca. Immediately afterward, he was taken to the iRacing simulator, turned loose, and set a fast time within a tenth of a second of the time he had just set in the real car on the real track. That speaks volumes about the accuracy of the simulator. Maillard, who had little real-world track time, credits the simulator with putting him at ease in the real car.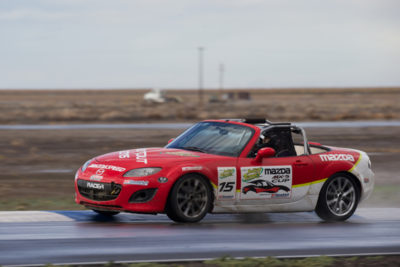 "I think iRacing really helped me to get to feel the car better and faster and to learn how it handles," the Frenchman says. "It really helped me a lot to get prepared for [the Shootout]. As soon as I got in the car, even in the wet, I was very comfortable."
iRacing runs a 12-week season for MX-5 Cup, and it's the simulation company's most popular series, attracting 12,000 participants. That's possible because, even if 300 people sign up for a particular race, the company can duplicate the track as many times as necessary, so 30 instead of 300 are on the track at once.
It goes beyond accurately reproducing existing racecars and racetracks, though. The next step is to build the new MX-5 in iRacing, and use it to develop the MX-5 Cup version for the Idemitsu Mazda MX-5 Cup Presented by BFGoodrich® Tires and the new MX-5 Cup. If they want to try a different sway bar diameter or spring rate, they can do it in simulation before trying it out on the real car.
"As we developed the Mazda SKYACTIV Prototype, we used a tool called Driver-In-The-Loop simulation that puts the driver in the loop, because oftentimes we've found that the simulation will tell you exactly what RPM to be at at that point on the racetrack, but then the driver gets in and finds that if he varies from that ideal, it might compromise a little in that corner, but it's better in the next," explains Mo Murray of Just Marketing, Inc., which oversees many of Mazda's marketing efforts. "It's very expensive, and not something that everyone has access to. So when Mazda is developing the next MX-5 Cup car, the iRacing team will do the same thing for us, because we can get our test driver to go with their engineers and make real-time changes to the car. It will give us more testing in the finite amount of time we have than we would otherwise have access to if we had to go to a real racetrack and test every change we wanted to."
It may also provide potential buyers who can't get their hands on a real 2016 MX-5 to drive due to high demand in the beginning the opportunity to "drive" the new car.
In the meantime, racers who want to learn a new track, or perhaps try driving a car they may not otherwise have access to, can give it a go on iRacing. And, if they're good enough, earn a shot to compete for a drive in a real MX-5 Cup car in 2016.
Related Content:
Shootout Finalists Announced
Kyle Loustaunau Wins Shootout
2015 Idemitsu MX-5 Cup Schedule