Northern Californian works two jobs to fund his racing; it paid off with a NASA Spec Miata championship and a drive in the 2015 Idemitsu Mazda MX-5 Cup Presented by BFGoodrich® Tires.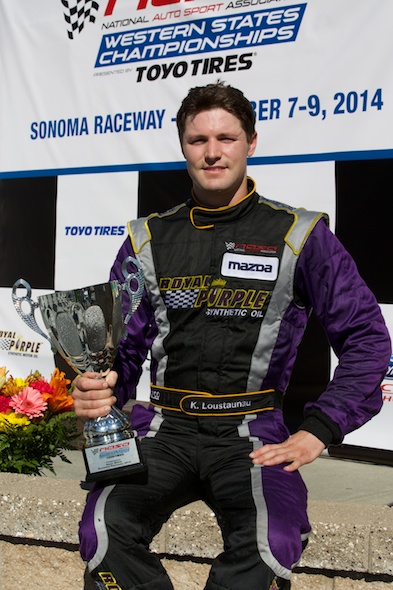 "It's pretty damn awesome!" sums it up nicely when Kyle Loustaunau talks about winning the Mazda Club Racer Shootout and the $100,000 opportunity to compete in the Idemitsu Mazda MX-5 Cup Presented by BFGoodrich® Tires that goes along with it. "It's kind of hard to sleep at night because I think too much about it. I'm excited and I can't wait to start."
Loustaunau's journey began several years ago, but perhaps a bit later than many racers. While he grew up watching racing with his father, it wasn't until he was a sophomore in high school that he and his father were invited to a National Auto Sport Association (NASA) event at Sonoma Raceway. There he had the opportunity to take a ride in a two-seat Spec Miata, and he was hooked.
"I was blown away by how well it handled," he says. "So I saved up my money until I was 21 to buy my first Spec Miata. I had no idea how to work on it; I jumped in the deep end head first and had a lot of tough lessons to learn starting out. I think I went to the track the first time with a toolbox full of standard sockets – I didn't have any metric tools. Luckily it's a good community and everybody's willing to help you. I've learned quite a bit from friends I met along the way. Slowly I learned with my mistakes – and with my budget, you can't make too many."
Six years after he started, his dream is coming true with both the NASA Western States Championship in Spec Miata and the MX-5 Cup ride – after some trials and tribulations. His first Spec Miata was totaled in Loustaunau's second race when another racer clipped Loustaunau's nose on the back straight at Thunderhill Raceway Park, spun, bounced off the wall and hit him again. "It was kind of good, because I had to buy a new car and build the car myself. That taught me a lot. I found a car in San Francisco pretty cheap, drove it back to my house, had a cage put in it, stripped the parts and built it myself," he says.
Both cars were 1.6-liter NA Miatas, and while he was competitive, he wasn't sure his car could get it done at Sonoma Raceway, home of the NASA Western States Championships in 2014. He rented a 1995 1.8-liter car and found that it was a bit faster around the undulating Northern California circuit. Then he went to work getting it ready for the championship.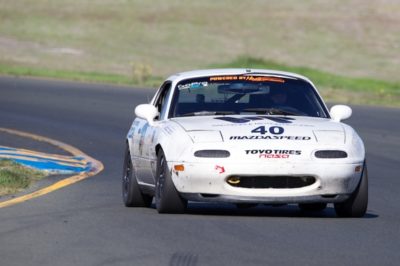 "We made a few changes throughout the weekend. We went to the dyno and got two extra horsepower out of it. Everything just kind of clicked and we slowly got faster throughout the weekend. For the second qualifying race, we had gone to the dyno the night before, and set the pressures at 38 for consistency and forgot to take the pressure out for the race the next morning. I had my hands full. One more lap and I would have given up second place," he says.
But, as it turns out, that wasn't such a bad thing. Mark Drennan had been fastest all weekend, and winning both qualifying races handily may have put him at ease for the championship event, Loustaunau notes. "I didn't pressure Drennan, so he didn't feel like he had to make even more changes. I kind of unintentionally sandbagged. For the race, there was no part of that race where I think he was faster than me."
Loustaunau was able to reel Drennan in and take the lead, pulling out lap after lap once he was out front. He eventually took a 1.2-second win over Hernan Palermo while Drennan faded to third. Championship in hand, his next step was to get invited to the shootout and win.
"I kind of knew this was going to be my only shot to win it. I knew I had to give it everything I had. I did everything I could to make the business proposal as professional as possible and give Mazda the most bang for their buck," says Loustaunau, who works 40-plus hours a week as a machinist and then three to five nights a week as a bartender. "I tried to think of the most creative ideas I could that would gain exposure for myself and Mazda as a brand. Having the judges know I work two jobs, I think they did take that into consideration. I thought that might help me and hurt me at the same time…if they pick me, how am I going to have the time? But I convinced them that I could get it done. I knew when the track day came around, I had to be as consistent as possible. It was probably my first time going out in the rain since my 2008 SCCA drivers school. It was a pretty hairy day. I knew I had to go fast and keep it on track."
He did, on a day that others couldn't. As a result, he'll be on the grid when the 2015 Idemitsu Mazda MX-5 Cup Presented by BFGoodrich® Tires kicks off at Sebring International Raceway in March. He hasn't yet announced for which team he'll be driving; maybe once that decision is final, he'll be able to sleep.