Eric Powell's PTD Miata features a flat power band and good aero combined in a championship-winning package.
When he set out to build his racecar, Eric Powell had one goal in mind: win a club racing national championship and qualify for the Mazda Club Racer Shootout.
He achieved that goal, but it turned out to be a little bit more difficult than he anticipated. In the process, his 1997 Miata went from NASA Performance Touring C, to D, to E and back to D again. In its final form, Powell won the PTD Western States Championship and qualified for the shootout.
"It just kind of led me in that direction," the Orlando, Fla., resident says. "We started building a C car, blew the motor up, and went in the direction of D. As much as I wanted to run Spec Miata, it's a little bit out of control at the moment. This is what I could afford to do even though I've blown the budget a little out of proportion. I could have bought a top-level Spec Miata all along, but this is where we ended up.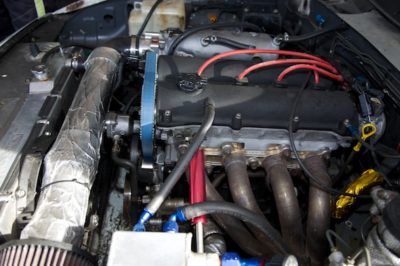 "After blowing up the motor we built for PTC, we basically had a bone-stock engine there for a little while, with no aero. Now we've got a car with full blown aero and a crazy engine that makes a flat power band exactly how we want it," he adds.
NASA Performance Touring is classed one of two ways. The cars can be classed purely by points, where each modification carries a certain points value, and when you accumulate enough, the car moves up a class. Then there's also the dyno reclass, where all that really matters is the power/weight ratio. That's what Powell did. His '99 engine is bored 0.080 over, has 11:1 compression and, unrestricted, makes 180hp. Detuned to 156 to maintain the power/weight ratio, it makes peak power from 5500RPM to 8000. Beyond that, Powell has done a host of changes to make the car capable of slicing from the back of the field to the front, which he had to do twice at Sonoma Raceway during the Western States Championships due to going a bit over on the dyno.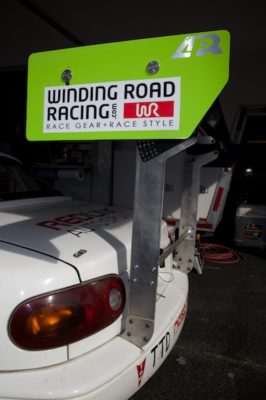 "We have to weigh 2485lbs. It's quite bit heavier than the Spec Miatas; but I'm on better tires – I'm running Hoosier A6s or R7s depending on if I'm racing or time trials. I've got a good set of AST shocks on there. The sway bars are stock for points. And I've got a huge 64-inch APR 2D airfoil. We actually run an NB Miata rear bumper and welded the wing stanchions into that NB aluminum rear bumper support," he explains.
The result is a car he's quite happy with. Unfortunately, it's not the car he was able to race at the NASA Eastern States Championship at Road Atlanta, where he competed in PTE.
"No one showed up for my class at the Eastern nationals," he says. "So I took the aero off, detuned the engine, and of course that required a different setup. Unfortunately, a very good driver in a very good car got the best of me, and it was necessary to come out [to Sonoma]."
That other driver was Ben Anderson, who won the title in a second-generation RX-7. So Powell had to make the drive from Orlando, where he works as a stunt driver in Walt Disney World's Lights, Motors, Action! Extreme Stunt Show. Fortunately, it paid off as he was able to win the championship.
Powell missed his ultimate prize, winning the Shootout and the season of competition in Idemitsu Mazda MX-5 Cup Presented by BFGoodrich® Tires that goes along with it. The good news, though, is he's got the car to get back there again.