Comparing throttle position and speed can reveal several facts about a driver's habits and areas that need improvement.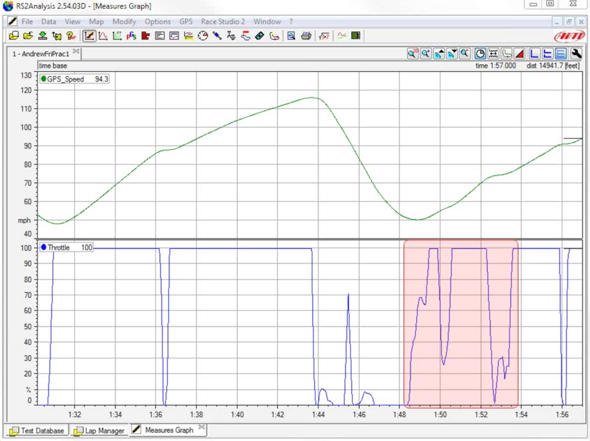 MAZDASPEED Motorsports Development recently hosted an online data acquisition seminar with Mazda racer Randy Pobst and AiM Sports Training Manager Roger Caddell. During the seminar they covered several topics about using data to improve driver performance. We'll cover some of the highlights here, starting with throttle application.
"You should go to the throttle one time, and that throttle should only be going up, never down, 99 percent of the time as you leave the corner," says Caddell, pointing out a throttle data trace (ABOVE) that shows a big dip in the throttle. "So what we have here is a fail. We can look at other aspects of the data to see why this happened. You can look at your g-forces – the driver may have given up on the corner too soon. This is common and it happens to a lot of us, because we all want to get on the throttle as soon as possible."
It's something that every racer knows – feed throttle in as the steering wheel unwinds, as if they were connected. The key is to use data to determine whether that was the cause of the forced lift or if it was something else.
"The throttle drop is just the first hint," says Pobst, driver of a Freedom Autosport MX-5 in the Continental Tire SportsCar Challenge series. "The next question should always be why. If you don't answer that question, you don't know what to fix; and if you don't know what to fix, you're going to keep getting beat."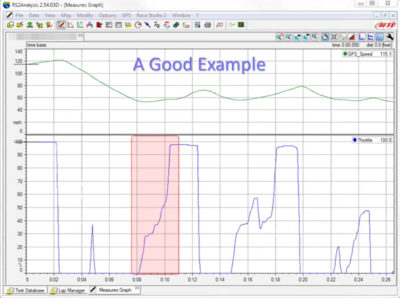 Caddell showed another trace (LEFT) that showed more steady throttle application, although not a constant slope. The change in the slope is actually an indicator of the driver doing something right, Pobst says.
"One of the things this tells us is this driver, that hesitation bit, is he's got his eyes in the right place. He's looking well ahead, and that gives you the information and you start adding that throttle and you try to keep it right on the edge. So you give a little over the limit, and you see the car moving a little wide…you've got have your eyes in the right place to identify that," he explains. "This driver was a little more careful after this mid-acceleration correction, but he never backed off."
Another use for the throttle trace is determining shift speed, and in the case of Spec Miata, prove that faster shifts are better.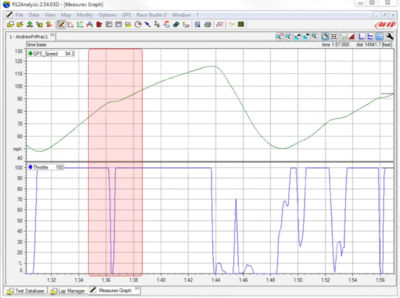 "When you're shifting, you can take a look at that throttle position sensor and we can look at a bad example and a good example of a slow shift vs. a fast shift and what it looks like in the data," says Caddell, before producing data from his son in a Spec Miata that showed the difference between a 0.55sec upshift (LEFT) and a 0.18sec upshift (BELOW). His son, Andrew, was the 2006 SCCA National Champion in SM and the first winner of the Mazda Club Racer Shootout.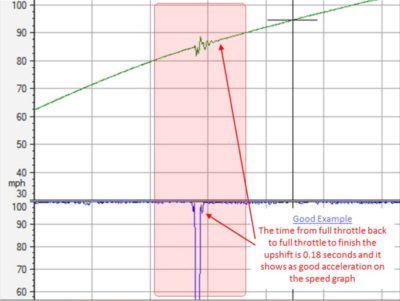 "When you you start to see that and you can see where that speed trace was climbing nice, and then it basically goes horizontal before climbing again. You lost that for that moment, but of course, you're two or three miles-per-hour slower than the guy that shifted faster," Caddell says, showing the slower upshift before producing the data of the faster one.
"I was always preaching to take it easy on the transmission. He said, 'No, if I shift a little harder, I'm pulling on these guys just a touch.' So we started looking at the data. It quickly showed that in a lower-power car like a Spec Miata, that quicker shift really did help."
What the data showed is that it could be worth as much as three or four tenths of a second per lap – a fairly significant gain or loss.
As Caddell and Pobst demonstrated, it is no single piece of data – speed or throttle position or steering angle – that reveals good or bad driver behavior and allows it to be corrected, but by comparing the two and understanding why and how one affects the other. In the next installment we'll look at some ways that brake pressure data can be used to make improvements.
Don't forget that MAZDASPEED Motorsports Development sells AiM Sports data acquisition systems, and look for announcements of future Webinars on different topics.