Racers like the idea of a MX-5 Cup, and especially another opportunity for young drivers to prove themselves.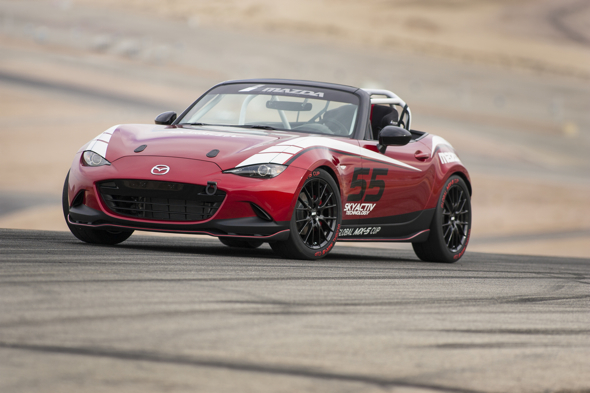 Unveiled a month ago at the SEMA Show, the Mazda MX-5 Cup series has generated a lot of interest even though the first race of the new series and the fourth-generation MX-5 racecar are more than a year away.
For those that are racing or have competed in the Mazda MX-5 Cup, the MX-5 Cup holds special sway. While many may not be pursuing the ultimate prize for winning the Global Shootout at Mazda Raceway at the end of the season, the test in the Mazda SKYACTIV Prototype, the new series has certainly piqued their curiosity.
"I think it's very exciting news," says Charles Paquin, a gentleman racer in the Mazda MX-5 Cup Presented by BFGoodrich® Tires and the president and CEO of ModSpace. "I think it raises the profile of the entire series by making it global. I think there's probably a lot of excitement to begin with, having the new car, the new platform, and it's injected a lot of interest and anticipation in both the driver community and the overall series itself. I think introducing the global competition side of it kind of raises it an entire level. I think it puts it on par with the Porsche series, where it's more an entry level series, but it's a global series. I think it will attract a higher quality of drivers knowing that there's an international showdown at the end."
While Paquin doesn't see any value for himself in the ultimate prize due to the fact that his day job keeps him from competing in the full series, he does see value for a sponsor seeking global exposure, such as the series' new title sponsor, Idemitsu. He also thinks it will be very attractive to young racers looking for their shot. That's important, says one racer who credits the MX-5 Cup for reviving his professional racing career.
"The Mazda MX-5 Cup is special to me just because it was an opportunity for me to get back into professional motorsport," says Eric Foss, who took the Continental Tire SportsCar Challenge Grand Sport title in 2014. "The Mazda ladder system offers a driver an opportunity to start at a lower level and try to show their talents and get an understanding about teamwork and motorsports as a whole, and allows them to move forward through the Mazda program.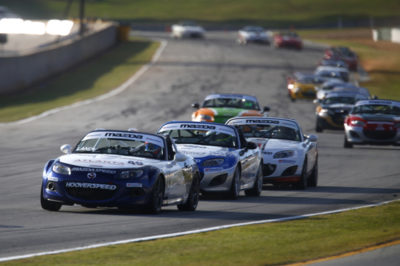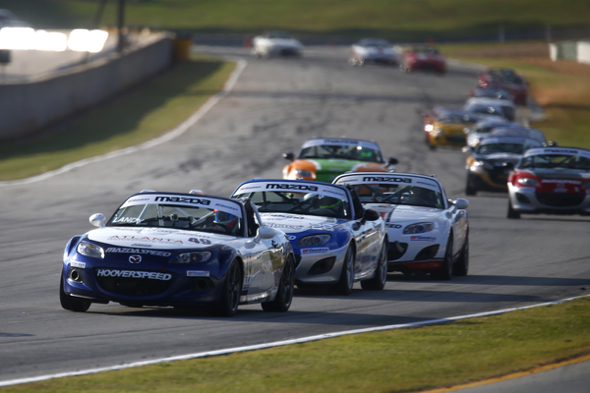 "I think on a cost-per-opportunity basis, MX-5 Cup is leaps and bounds ahead of what anybody else is offering. The opportunity that you can get on such an investment is enormous. It's more than just winning the opportunity to drive for Mazda the following year, it's the opportunity to expose yourself to more potential sponsors. It can be a huge, huge return," he adds.
The idea of stepping from an MX-5 Cup car into the much faster SKYACTIV Prototype, for even a test, may seem intimidating and perhaps even a little unfair for a young racer. One of the current drivers of that machine, who started in Spec Miata himself, Tom Long, says he doesn't think it will be an issue for the eventual winner of the opportunity.
"No matter what your racing goals are in life, I think that the opportunity to test the premier top level sports car, from a grassroots pro racing series, is a dream come true," he says. "Speaking for myself, it has been. Knowing how the racers are these days, a global champion is going to have all the traits to do a good job and adapt to what a high-downforce prototype can offer."
Another interesting aspect of the 2016 Mazda MX-5 Cup is that all the cars will be built and sold by a single supplier, instead of Mazda selling cars and kits for purchasers to build. Several current and former MX-5 Cup racers feel that will assuage any feelings that cars are unequal, although they say the cars are very close as they are.
Racers and fans will have the opportunity to check out the new car as MAZDASPEED Motorsports Development and its suppliers test the car and its components at several rounds of the 2015 Idemitsu Mazda MX-5 Cup Presented by BFGoodrich® Tires.