Mazda Enters Third Decade of Open-Wheel Racing with Addition of Indy Lights
December 11, 2014 (INDIANAPOLIS) — Mazda announced the addition of Mazda-power in the all-new 2015 Dallara Indy Lights chassis at the annual Performance Racing Industry (PRI) Trade Show. This was the latest development in its ongoing commitment to motorsports, which includes the Mazda Road to Indy, the most comprehensive driver development system in the world.
While most noted for success in sports cars, Mazda has been active in open-wheel, formula-car racing since 1984. In recent years, that has developed into the Mazda Road to Indy, where aspiring racers can advance upwards along a logical progression from karts all the way to the Verizon IndyCar Series. In 2014, Mazda powered both the Cooper Tires USF2000 Championship and the Pro Mazda Championship Presented by Cooper Tires. For 2015, Mazda adds Indy Lights Presented by Cooper Tires.
The all-new Dallara IL-15 Indy Lights chassis will be powered by a 2.0-liter turbocharged Mazda MZR-R. Originally developed in conjunction with Advanced Engine Research (AER), the MZR-R was first campaigned by Mazda in the American Le Mans Series and Mazda customer teams in the European Le Mans Series. The engine enjoyed several milestone victories, among them were Mazda's first-ever major North American overall sports car racing win and the 2011 LMP1 engine manufacturers championship. The engine, further developed by AER, will be designed to produce 450 horsepower and last an entire season without a rebuild.
The 2015 Mazda Road to Indy schedule will kick off with the fifth annual pre-season Cooper Tires Winterfest at NOLA Motorsports Park, just outside of New Orleans, La., on February 18-20 and will move to Barber Motorsports Park near Birmingham, Ala., on February 24-26. The official season will open at St. Petersburg on March 27-29 and conclude at Mazda Raceway Laguna Seca on September 11-13.
Quotes:
John Doonan, Director, Mazda Motorsports: "The Mazda Road to Indy is a great showcase for what Mazda represents. Our strength is in helping drivers move up the ranks. Almost a third of the Indy 500 field traces their roots to Mazda. Adding the Indy Lights series allows us to have an even longer, more productive relationship with the Indy stars of the future. We were among the first to recognize the on- and off-track talents of racers like Simon Pagenaud, James Hinchcliffe, Marco Andretti, Graham Rahal, and many others. We can't wait for the season to start at St. Pete, all the way to autumn in Monterey at our own Mazda Raceway for the season finales."
Dan Andersen, Owner and CEO of Andersen Promotions: "From the onset of my involvement with Indy Lights, it's been my hope to have our longtime partner, Mazda, join us in this effort. My decision to select AER as our engine provider was consciously made knowing the substantial Mazda involvement with the engine proposed by AER, and today I am delighted to confirm that the IL-15's engine does indeed have deep Mazda roots. Mazda does more for open-wheel racing in North America than any other manufacturer, and its full involvement in the Mazda Road to Indy is great news for all."
Mark Miles, CEO of Hulman & Co, the parent of INDYCAR and the Indianapolis Motor Speedway: "Today's announcement that Mazda has agreed to become the Indy Lights engine supplier next season is another pivotal step forward for the series. Mazda's increased commitment to Indy Lights, and their continued support of the entire Mazda Road to Indy ladder system, is instrumental in the development of the next generation of Verizon IndyCar Series drivers. We're thankful for their partnership and certainly look forward to having Mazda power behind the new Dallara IL-15 chassis in 2015."
Chris Pantani, Director of Motorsports for Cooper Tires: "Knowing that Mazda is once again our partner, this time in Indy Lights, continues to prove that the combination of Cooper Tires and Mazda is the best choice in the career path of a developmental driver. Our relationship with Mazda started in 2006, and continues to be the path chosen by many champions in the early stages of their careers."
Spencer Pigot, Champion – 2014 Pro Mazda Championship Presented by Cooper Tires: "It would not be an exaggeration to say that I would not be where I am today without Mazda and the Mazda Road to Indy. They have been a huge part of my career since I began car racing. I'm thrilled to be the first driver to ever earn three Mazda scholarships, the first one being in 2009 when I was still in karting, to making the move up to the Skip Barber National Championship. The cost to rise through the racing ranks is so expensive, that it is only with support like the Mazda Road to Indy that many drivers can succeed. I can't wait to start the season in 2015."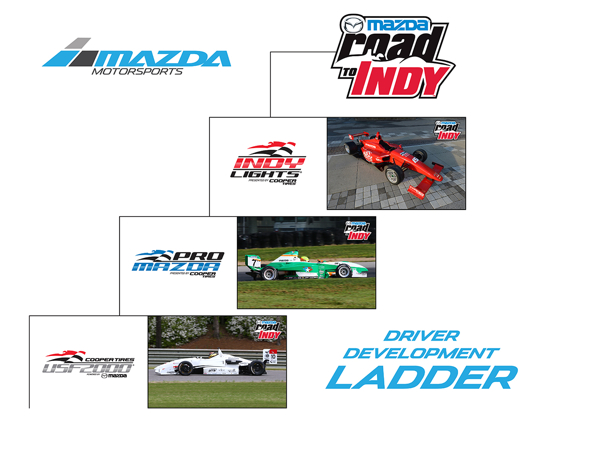 About Mazda, Mazda Motorsports, and MAZDASPEED
Mazda is a leading player in all aspects of sports car racing with an emphasis on endurance road racing. Mazda is the number-one brand for road-racers across North America among both club racers and professionals. Thousands of Mazda-powered grassroots racers compete in various classes with the SCCA and NASA highlighted by Spec Miata, the world's largest spec class with over 2,500 cars built. Via the Mazda Road to Indy and the Mazda SportsCar Racing Academy, Mazda supports racers at all levels of the sport from club racing up to the TUDOR United SportsCar Championship where it races with production SKYACTIV Technology.
Mazda remains the only Asian car company to score an overall win at the 24 Hours of Le Mans (1991). Mazda has had a naming rights agreement at Mazda Raceway Laguna Seca since 2000.
Mazda Motorsports is managed by Mazda North American Operations (MNAO). MNAO is headquartered in Irvine, Calif., and oversees the sales, marketing, parts and customer service support of Mazda vehicles in the United States and Mexico through nearly 700 dealers. Operations in Mexico are managed by Mazda Motor de Mexico in Mexico City.
Consumer information can be found at www.mazdausa.com, with press information at www.mazdausamedia.com. Racers and fans can follow the action on Facebook (Mazda Motorsports), Twitter (@mazdaracing), Instagram (MazdaMotorsport) and www.mazdamotorsports.com