Two drivers at the Runoffs got professional coaching with good results from different approaches.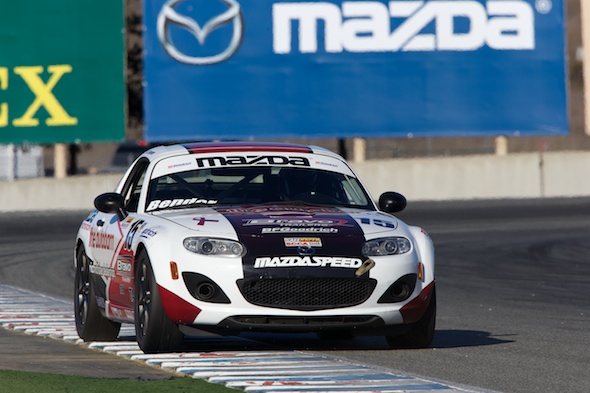 It's generally accepted that coaching can help even the most advanced of racing drivers. There is always a different way to look at things, and even if you're fast, considering all the options might make you even faster.
Two drivers at the 2014 SCCA National Championship Runoffs had never driven at Mazda Raceway Laguna Seca before, so both could certainly benefit from some help with the track. Each got some coaching from a different professional Mazda racer, each got help in a different way, and each ended up on the podium in his respective class.
Colorado racer Jonathan Goodale was at the track for the first time with his GT-Lite MX-5. Daniel Bender came from Chicago with a Touring 4 MX-5. Although both are MX-5s, they are very different racecars. Still, each was able to take away valuable advice to use in qualifying sessions and races.
"I've been around racing for a long time," says Goodale. "You run across very few people that have the ability to tell you how to do something on track. I'm not a big guy on watching videos on YouTube or getting on iRacing and running 10,000 laps, so a track walk really helps me."
The question was, whom to walk the track with? Goodale needed someone familiar with it, but that could also communicate the track's peculiarities to him in a way he could digest. Mazda Business Development Manager David Cook suggested 2014 Mazda MX-5 Cup Presented by BFGoodrich® Tires champion Kenton Koch.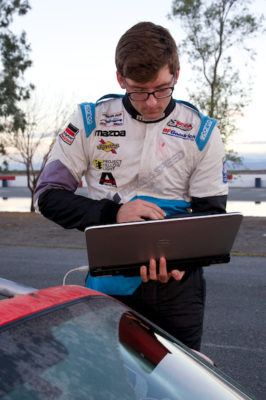 "It was impressive – he walked two-and-a-half miles backwards. I've had people try to tell me things, but they're talking above my head. He was able to put it in such simple terms," Goodale says. "When I got on the track on Monday, I really felt like I had driven the track before. That's how far ahead I felt of the other people in my class that didn't get to walk with him. If I had to look at my whole week, the one thing that probably helped me the most was that."
There were things that Koch said that Goodale didn't really grasp until later, such as telling him that when he's coming out of Turn 2, he's setting up to pass someone in Turn 5. Then, during the race, as Goodale was battling with Peter Shadowen, Chris Doodson and Peter Zekert, it was Koch's voice in his head that helped.
"'Eyes up. Don't look at the 1 marker, but that's where you're going to turn in. Look at the Apex. Don't hit that red part. Drift all the way back out, put the left two tires on the blue curb, now come back over…' They tell you to put your head down and don't look at your mirrors. That's what I did and I just kept running through what he said in my head over and over again. That's what helped with the consistency," says the GTL bronze medalist.
Bender had the aid of Mazda SKYACTIV Prototype driver and professional coach Tom Long. Long was with him after each session going over data and video to help Bender get the most out of his T4 MX-5.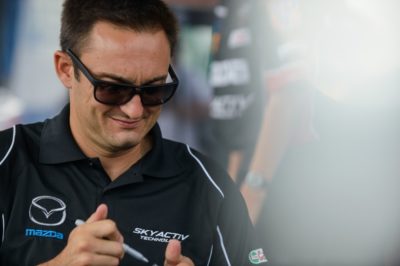 "Tom is about the nicest and most helpful human being there is," says Bender. "He does a really good job of breaking down everything and make it so it's easy to understand. I've worked with a couple of coaches and they'll look at one lap and not go too much in depth with it. Tom will have the data on one screen, video on the other. He'll pull up two or three laps and make sure one little bobble isn't an anomaly, see if it's a consistent pattern.
"One thing I struggle with is my throttle application being a little too jumpy, and he was able to show in the data where the throttle was," Bender continues. "Just in that I made a jump over the week. It's one of those things that you focus on for a long time, but for whatever reason I sort of figured it out. I think it has a lot to do with how he breaks down the data."
Bender obviously figured a lot of things out, as he left Mazda Raceway with the T4 championship. So what advice would he offer someone that's hiring a coach?
"'Listen," he says. "You've hired him for a reason. The old saying, 'You have two ears and one mouth' … listen twice as much as you talk. I've struggled with that. Their input is always going to be good, and you always have something to learn. When you go out, truly focus on one turn at a time. Don't go out there with 30 different things you want to try. If you overwhelm yourself, you won't learn."
Factory Mazda driver and professional driver coach Tom Long was asked by Mazda Motorsports to explain the benefits of coaching. As many of you know, one primary purpose of MazdaMotorsports.com is to be a resource for its competitors. For some additional insight into coaching, check out the video below.
TOM LONG COACHING VIDEO from Amanda Duval on Vimeo.