Ben Anderson won the NASA Eastern States Championships Performance Touring E title in a '91 RX-7.
Ben Anderson may not have lived the dream of being a professional racing driver, but he's been fortunate to have found a few people that are happy to let him drive their cars and even has a National Auto Sport Association (NASA) Eastern States Championship in Performance Touring E to show for it.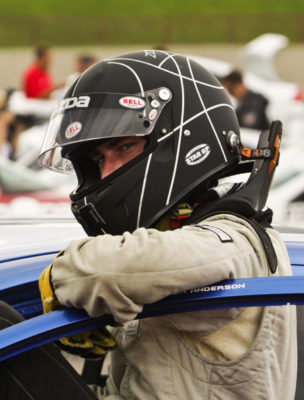 Anderson didn't discover the joy of motorsports until age 25 when he entered his first high performance driving event with his '99 Miata. That got him hooked, and next came a three-day school at Derek Daly in Las Vegas. He admits that setting the student track record there convinced him that he had it made – all he had to do was sit back and wait for the sponsors to come calling. His instructor, though, brought him back to reality … that there's a lot more to making it as a professional driver than just being quick, and if he really wanted to make it, he should have started sooner.
Fortunately for Anderson, he already had a successful career as an entrepreneur, having founded several startups, and is currently running his company Automotion, which produces mobile app technology for automotive dealers. So he could find other outlets for his need for speed.
He started with time trials in NASA and has since raced everything from Spec Miata to prototypes.
"I'm fortunate to build a small reputation from the amateur racing community to get rides from various car owners and team owners who have a car, but maybe they're not the best from a talent perspective and they really want to win a championship, so I've been fortunate to drive a lot of stuff, relatively speaking," he explains.
That includes the second-generation RX-7 that he drove to the PTE title at Road Atlanta in September. "It was that exact same scenario…this is an individual who really enjoys motorsports, really enjoys the building process of the car and figuring out the rules and regulations and optimizing the car, and was looking for someone from the driver's perspective who could get it done. So I was fortunate to get this ride and run a few races in the NASA Midwest and Central regions to qualify for the championships," Anderson explains.
Anderson and the car owner, though, knew that going up against the Miatas in the class would be a challenge. Not only did the Miatas handle a bit better, but they were able to more effectively use their powerband at Road Atlanta. Furthermore, Anderson had to race on a 205 tire, fairly narrow for the car's 2800lbs. So the strategy became to use the straights to make sure the Miatas didn't have a chance to attack in the corners.
"We were P1 for qualifying and won both qualifying races and the championship, so it was a clean sweep, which was fantastic. But we did not have the fastest lap," he says. "So the goal for us to stay ahead was consistency. It was hitting that ideal lap time that didn't overheat the tires, but at the same time not to have an inconsistency to allow the competition to overtake. There were quite a few corners where the car couldn't get going – it was way out of the power band. But we made up enough under braking and into the corners that the other cars couldn't get past at the end of the next straight."
Anderson got it done, and became eligible for the Mazda Club Racer Shootout, for which he was named a finalist. "The Club Racer Shootout is a goal of mine for several years now. It's the goal for many in motorsports because it's the only ladder system for amateurs to move into the pro ranks."
His pro racing dreams might just come true after all.