Grids Set for NASA Western States Championship races; Formula Car Challenge National Championships Settled.
The qualifying races are finished, and the grids are set for Sunday's National Auto Sport Association (NASA) Western States Championships Presented by Toyo Tires races at Sonoma Raceway.
A single qualifying session set the order for Friday's qualifying race; the finishing order for that race set the order for Saturday's qualifying race, and points garnered in both qualifying races set the grid for the Championship races for all the marbles on Sunday.
Eric Powell got off to a bad start in the process. Although he finished first in the Friday qualifying race for Performance Touring D, he was later disqualified for going over his allotted horsepower on the dyno. As a result, he started at the back of the field in the Saturday qualifying race. That didn't seem to matter, as he pushed his Miata through the field to take the provisional victory. However, he will start at the back again on Sunday because the starting position is based on points rather than average position. Joshua Allan finished second in an MX-5 and will start on pole; Lee Papageorge was third in an RX-8.
Miatas took three of the top four spots in Performance Touring E, with Randy Evans coming out on top just as he did on Friday.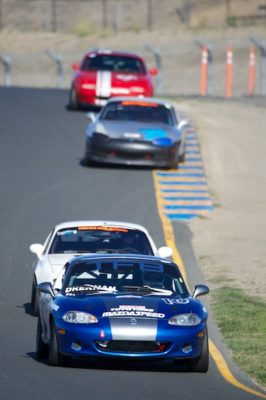 Mark Drennan led Spec Miata flag to flag on Friday, but finished with a fairly small margin of victory. On Saturday, though, he wasted no time pulling out a nice gap on the rest of the field, and Kyle Loustaunau did the same while chasing him, but the gap between Drennan and Loustaunau only grew, as did Loustaunau's lead on third.
The battle for third was race-long entertainment, though, between Herman Palermo and Matthew Cresci. Palermo came out on top to finish third.
Jon Van Caneghem finished the Super Unlimited qualifying race first in a Mazda Powered Panoz DP02 sports racer.
Whelden Claims Formula Car Challenge Pro Mazda
With three races in two days for the Formula Car Challenge Presented by Goodyear National Championship, part of the NASA Western States Championships at Sonoma Raceway, a driver better not have any problems to claim a title.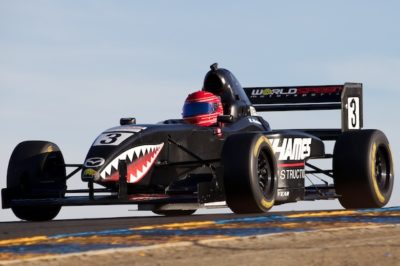 Michael Whelden won his second FCC Pro Mazda championship in as many years by winning two out of three races. In the process, he became the first person of the weekend to qualify for the Mazda Club Racer Shootout, where he was a finalist last year. Bill Weaver took the Formula Mazda championship by sweeping the weekend.
Saturday's races were also the final two races of the West Region championship. The top three in Formula Mazda were separated by a mere five points, with Cameron Parsons claiming the title over Stew Tabak and Tazio Ottis. Alex Keyes, who won the one race that Whelden didn't in Pro Mazda, took that title and Jaden Conwright is the FormulaSpeed 2.0 champ.