A turn-by-turn breakdown of the famed Georgia track with data, track maps, a setup guide and videos.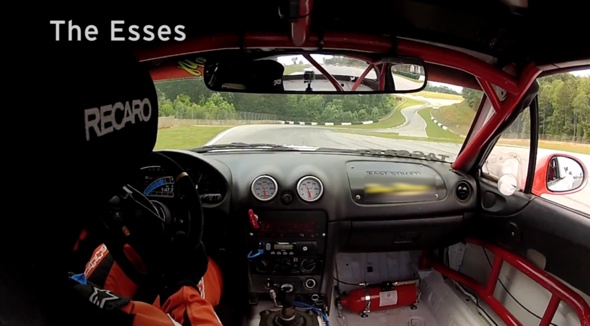 For competitors in SCCA's Regional-only classes such as Improved Touring, the American Road Race of Champions is the biggest event of the year, crowning unofficial national champs in those categories not eligible to compete at the Runoffs. To help give Mazda competitors an edge, we turned to our BEHIND THE ZOOM team, many of who have several victories at this track.
According to Mazda factory driver and professional driving coach Tom Long, who has raced and won at the 2.54-mile circuit, Road Atlanta is fast and rewards those who can keep up the momentum."It's evident right out of the gate in Turn 1 that this is a track that rewards drivers who can flow speed. Keep this as a focus point, and you should find yourself running some quick laps," he says.
| | | |
| --- | --- | --- |
| To help our Mazda drivers succeed at this track, the BEHIND THE ZOOM team has provided a filled-out track map with key takeaways and a more detailed turn-by-turn description. According to Long: "Track maps are great to review prior to your trip to Atlanta and to re-create after each session you are on track." | | |
| | |
| --- | --- |
| "The ability to read, understand, and communicate data output from your car is critical to helping you get up to speed quickly," says Mazda factory driver and professional driving coach Joel Miller. The data map provided here compares two Mazda race cars, illustrating the benefits for the driver that nails the corners. | |
| When it comes to setting up a car, Mazda factory driver and SpeedSource owner, Sylvain Tremblay, says: "The detail in setup must match the detailed effort you put into every input of your driving style." Though the BEHIND THE ZOOM team may not have firsthand experience in your exact car, it does have experience in a wide range of them, including Spec Miatas. Hopefully, you'll find some good takeaways to consider when setting up, and, inevitably, adjusting your car. | |
Here's Randy Pobst and Kenton Koch taking you around Road Atlanta. Their golf cart is a little slower than your racecar, but that will give them plenty of time to explain each corner.

To tie it all up, let's watch some videos of top drivers putting it all together. Tom Long takes you through a quick lap in a Spec Miata; he even shows you a great place to pass.

And if it rains, Kenton Koch, MAZDASPEED Motorsports Development Driver, helps you navigate this track by having to learn the wet line in a race while piloting his Skip Barber/Mazda MX-5 Cup Presented by BFGoodrich® Tires car.

Have questions? Select drivers from the BEHIND THE ZOOM team will host an exclusive forum for Mazda competitors on Oct. 28 at 8:30 PM EST; see the accompanying story or check your inbox for details to join. Thank you for being a Mazda competitor.