Mazda racer Jason Cherry, whose brother is on the autism spectrum, seeks to raise funds through his racing.
My name is Jason Cherry, and in 2014 I raced an MX-5 in the TCA class of Pirelli World Challenge. My initial introduction to the professional racing world was my debut in the World Challenge Series at Barber Motorsports Park. It was an incredibly prestigious event, and I was in awe as the paddock was lined with big rigs and sports cars, all of which was very foreign to me as I had only competed in four SCCA races prior to making my professional debut. Throughout that weekend in April of 2014, I realized that the professional racing environment was a powerful platform with the potential for having a strong national if not global outreach for any great business or cause. I knew then that my future would be in the motorsports industry.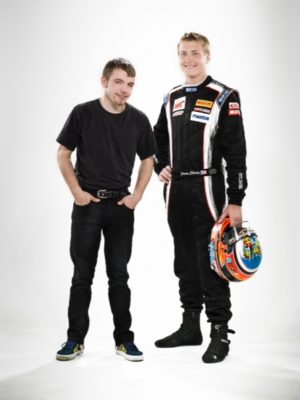 For me, it made perfect sense to combine my passion for professional auto racing with my personal calling to strengthen the cause for autism. As the younger sibling of a multiply-complex brother on the autism spectrum, my entire early childhood consisted of family challenges that at times seemed fearful and beyond overwhelming. Truthfully, I was afraid of my brother when I was little because his behaviors at that time were very explosive. As I grew older, I developed compassion not only for him but for all individuals with special needs. My mother had always told me throughout these difficult times that one day I would understand better and become a great advocate for people with disabilities. Well, one day is here.
I have partnered up with the Autism Society of America (ASA) as their exclusive racing driver. ASA, the nation's oldest and largest grassroots organization helping individuals with autism maximize their quality of life each and every day, directly aligns with the mission of my heart. My personal and professional goal is to raise the funds to create new programs within ASA that directly benefit the siblings of individuals on the autism spectrum (ASD). People do not realize the impact living with autism can have on a family, more specifically the siblings. Because of the extensive costs related to providing services and therapies to the children with ASD, family financial assets are drained with the result being that the siblings may not be able to access camps or education. This is why I am working towards becoming an advocate for the siblings. Through the ASA/Jason Cherry Racing Fund, monies directly raised and contributed through my career and sponsorships will be used to target support to three distinct areas of need. A scholarship fund will be created to provide monies to siblings for education; a fund will be created to provide monies for respite services for the families, which can also support camps for the siblings; and lastly, a sibling board and forum will be established to connect siblings impacted by autism on a national and developing global level.
I have recently launched a crowdfunding campaign to help fund the creation of an autism awareness team. This will be the platform used to connect corporate partnerships between myself, ASA and businesses willing to stand behind this global movement. I need your help as I rally together the general population through my auto racing platform that I am currently developing. Please check out my campaign, share it, and donate if at all possible. With your support, this vision can come together and better the lives of many.
I would also like to thank Avpro Jets, MazdaSpeed, Purposeful Architecture, Bell Helmets and Savage Designs for their support this past racing season.