I'm Kenton Koch, the 2014 Mazda MX-5 Cup Presented by BFGoodrich® Tires champion. The Mazda ladder and scholarships helped me get here.
2014 was an extremely successful year for me. I was able to accomplish something that four years ago I thought would never happen – I was able to win the 2014 Mazda MX-5 Cup Championship Presented by BFGoodrich® Tires, which provides me a $200,000 scholarship to run in a Mazda-powered car in 2015.
Mazda has developed a ladder system to give drivers an opportunity to move up to the pinnacle of the sport on little to no money at all, starting out with Skip Barber in its Regional Series and potentially ending up with a shot to drive Mazda's factory SKYACTIV Diesel Prototype competing in the Tudor United SportsCar Championship. I am currently one step away from having this possible opportunity. Without this ladder system, I wouldn't be where I am today. The things I have learned over the years through my experiences with Mazda and Skip Barber have been invaluable.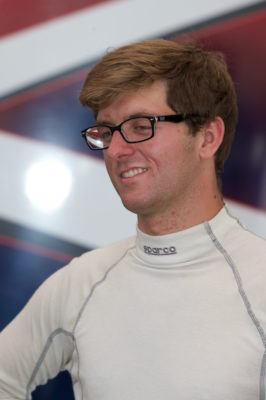 The year couldn't have gone much better; I took home six wins, four podiums and nine poles. Having a fast, reliable car was very important to achieving this, which was why I went with Alara Racing. They didn't have all the bells and whistles, but they knew how to provide a race-winning car, every time. Ken Murrillo is the engineer on the team and is a magician with these cars. The car never broke once all year and was dialed by the time qualifying came. This goes to show how reliable Mazdas are and how amazing the crew was to keep a well maintained car.
This will be my second year as a Mazda Motorsports Development driver and fifth consecutive year being aided by scholarship funds. In total I have been able to earn around $380,000 in scholarship money to race. Many drivers in the Verizon IndyCar Series and the Tudor championship have graduated through the Skip Barber and Mazda programs. I hope to follow in the footsteps of those who have landed in the Tudor Championship. I hope to be one of the few that doesn't have to start with a large fortune in order to earn a small one.
I've had more fun this year than I have ever before and with that gained tons of knowledge. It hasn't hit me yet that I have won the MX-5 Cup Championship, but when I step foot in the car I will call my own for next year, it will all hit home. I can't thank Mazda and Skip Barber enough for this amazing program and my parents for supporting me through my whole career thus far. BFGoodrich® Tires has been an amazing supporter of the series and the tire it has provided has been one of the best I have ever driven, if not THE best. Alara has been more than just a team; they have been a family to me. I want to thank all the people who have supported me through my whole career. I can't wait to see what next year has in store.
Want to know more about Kenton? Click here.