East Coast NASA racers tackle Road Atlanta in the first of two championships.
The National Auto Sport Association's (NASA) ninth annual NASA Championships presented by Toyo Tires Eastern States Championships is underway at Road Atlanta. 
More than 50 Mazda-powered race cars are competing for top class honors at the first of what is twin NASA Championships in 2014. The NASA Western Championships will run Nov. 7-9 at Sonoma Raceway in California.
In qualifying for the Spec Miata Class, 37 cars lined up for the first qualifying race Friday afternoon. Danny Steyn in his No. 39 Miata took the early lead. Steyn had the No. 60 of Matthew Pombo glued to his bumper in the early going. Jonathan Czarny made it a three-car race in his No. 21 green Miata. On lap eight, Pombo went by Steyn and won the qualifier. The fast lap of the race was put in by James Drago in his No. 02 Miata, turning a 1:45.104.
Yiannis Tsiounis, the 2012 Spec Miata NASA Champion, was busy sorting his No. 69 Yoshino Mazda Miata. Tsiounis relays that the heat, as well as the way the track races will play a key role in him trying to grab his second NASA Championship.
Tsiounis believes that getting a draft from one car is good for at least a second around the 2.54-mile, 12-turn Road Atlanta circuit. Getting into a group of fast cars could be worth even more. He doesn't believe that one car, on its own, can run away from such a competitive Spec Miata field this weekend.
Of further interest to MAZDASPEED enthusiasts is a unique car running in the ultra-competitive ST1 Class. Sam Mangiameli in his No. 2 Mazda powered Diasio D962R put in some impressive times. With a reputation for having one of the best handling cars on the track, Mangiameli relays that his car is powered by a Mazda 13B motor out of an RX-7. It is naturally aspirated, making 205 horsepower at the rear wheels. He likes the torque curve of the motor and its overall simplicity.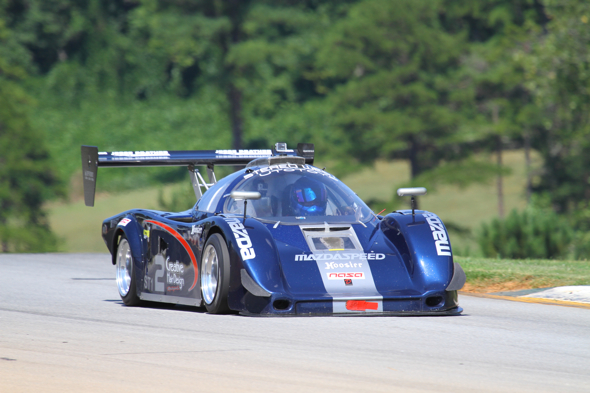 Qualifying sessions and races for the Sunday contests continue on Saturday, and the Time Trials groups begin testing for their final sessions on Sunday. Look for a report from the second day of the NASA Eastern States Championships on Sunday morning.