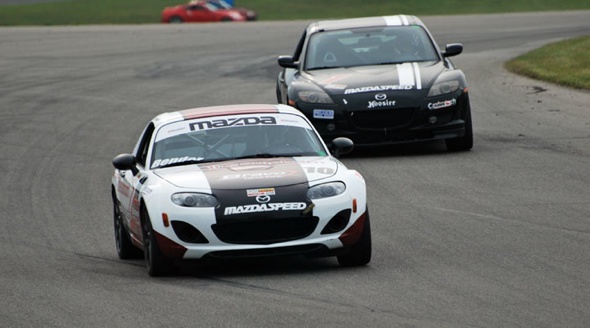 Heat and humidity were the first things drivers often mentioned after crawling from their cars following Rounds 11 and 12 of the SCCA Northern Conference Majors Tour races at Grattan Raceway. The effort it took to win on the physically demanding track was the second.
With 25-minute races on Saturday and 25-lap races on Sunday for the final weekend of Northern Conference Majors competition. It was the last chance to score points for championships, and several were decided in the final races.
That includes Touring 4, which was still tight after Saturday. Daniel Bender's main competition, championship leader Greg Vandersluis, left the track after qualifying with a mechanical issue that couldn't be repaired. Bender went on to win on Saturday in his No. 10 Bravo Trailers/BFGoodrich® Tires/Autobarn Mazda Mazda MX-5. He needed a victory or a second-place finish on Sunday to seal the title, and he did it with another win.
Justin Hille was able to do what few can do in any Spec Miata race – escape from his rivals, break the draft, and march to a win by more than four seconds. Hille steadily marched his No. 48 Hilltrux/Roush Mazda Miata away from the two-car battle for second between Voytek Burdzy and Seth Rowley. That gap got larger when Rowley's Miata tapped the rear of Burdzy's No. 41 Miata, swapping positions as both continued. Burdzy moved back into second position, and then held on for at the finish with Rowley behind.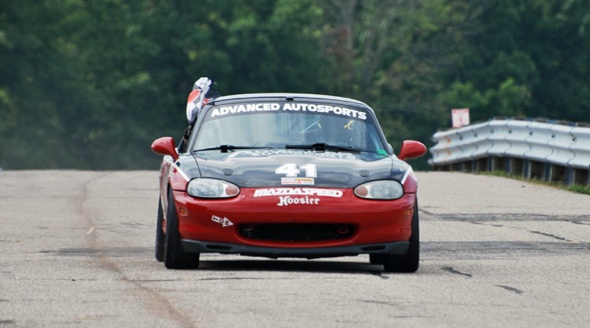 For a while on Sunday, it looked like Hille might walk away again. Unfortunately for Hille, the tandem of Burdzy and Michael Novak worked well together to shake Rowley and run down Hille on lap 12. Burdzy moved to the lead with a draft and out-braking maneuver into Turn 1 to start lap 15, and when Novak spun in Turn 6, the race was down to Burdzy and Hille. Hille took the lead back on 16, but Burdzy took control on lap 19 and was able to remain in front in his Advanced Autosports Mazda Miata. Hille and Rowley completed the podium.
Michael Mallinen took a double victory in Formula Atlantic with his Swift 016a/Mazda. The one on Sunday came even after he pulled off with an illuminated oil light, but still had sufficient gap to take the win.
Jason Vinkemulder and Dale VandenBush split Formula Mazda victories. VandenBush's win clinched the FM Conference championship for him.
SCCA Northern Conference Majors
Grattan Raceway, Belding, Mich.,
Aug. 23-24, 2014
Round 11 Mazda Winners
| Class | Driver | Hometown | Car |
| --- | --- | --- | --- |
| Formula Atlantic | Michael Mallinen | Liberty Lake Wash. | Swift 016a/Mazda |
| Formula Mazda | Jason Vinkemulder | Spring Lake Mich. | Formula Mazda |
| Spec Miata | Justin Hille | Canfield Ohio | Mazda Miata |
| Touring 4 | Daniel Bender | Northbrook Ill. | Mazda MX-5 |
Round 12 Mazda Winners
| Class | Driver | Hometown | Car |
| --- | --- | --- | --- |
| Formula Atlantic | Michael Mallinen | Liberty Lake Wash. | Swift 016a/Mazda |
| Formula Mazda | Dale VandenBush | Green Bay Wis. | Formula Mazda |
| Spec Miata | Voytek Burdzy | Shiller Park Ill. | Mazda Miata |
| Super Touring Lite | Tim Selby | Sheboygan Wis. | Mazda Miata |
| Touring 4 | Daniel Bender | Northbrook Ill. | Mazda MX-5 |