Amid drama at Sonoma Raceway, Spencer Pigot beats Scott Hargrove to the championship.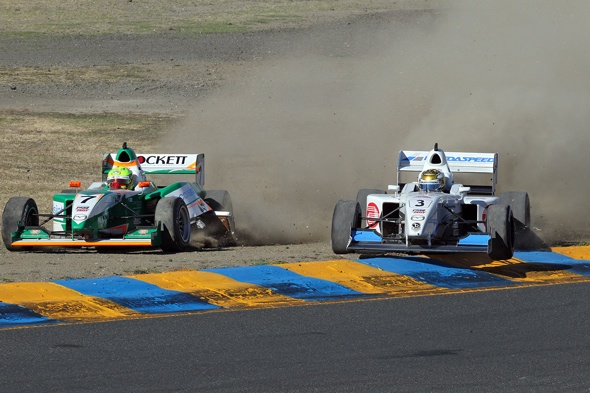 With the Pro Mazda Championship Presented by Cooper Tires title on the line, it was high drama at Sonoma Raceway as Spencer Pigot left with the championship and the $588,800 MAZDASPEED Driver Development Scholarship to graduate to Indy Lights Presented by Cooper Tires that goes along with it. The drama began with Pigot and title rival Scott Hargrove coming together in the first race, leaving Pigot on the sidelines and Hargrove with a third-place finish as Kyle Kaiser took his first series victory. That left Hargrove with the advantage going into Saturday's finale.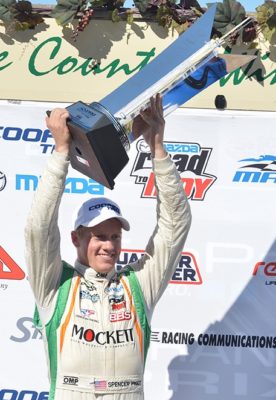 No one could have written a script as convoluted as the one which played out in that race. A sequence of almost unbelievable events enabled 17-year-old Mexican Jose Gutierrez to emerge with his first victory, while Juncos Racing teammate Pigot claimed the championship spoils after Hargrove experienced a broken transmission while in the lead with just four laps remaining
The action began moments after the start when Pigot tucked in behind polesitter Cape Motorsports with Wayne Taylor Racing's Hargrove on the entry to Turn 1, only to be hit from behind by Hargrove's teammate, Neil Alberico. The contact sent Pigot spinning and caused several other cars to be caught up in the melee. The resulting full-course caution enabled Pigot to catch up to the back of the field at the restart, but his title hopes were virtually in tatters with Hargrove leading the race and, following the incident between the pair yesterday, Pigot needing to finish ahead of his rival to stand any chance of winning the championship.
Hargrove soon began to inch clear at the restart, with Gutierrez in second ahead of Nicolas Costa, Shelby Blackstock and impressive newcomers Jack Aitken and Mazda Club Racer Shootout winner Joey Bickers, both of who were making their Pro Mazda debuts this weekend.
Hargrove looked to be set for the title and was told by his crew over the radio to look after his car and "bring it home." Even as Gutierrez whittled away at the deficit, reducing it from 2.2 seconds on Lap 8 to 1.3 seconds on Lap 11, Hargrove seemed to be in control. Then, suddenly, he lost the use of third gear. Shortly afterward, the caution flags waved again as Kaiser stalled on the track.
The restart came with four laps remaining and Hargrove still in the lead. Pigot, meanwhile, had charged from 18th to seventh, then relieved Bickers of sixth at Turn 4. It wasn't enough; but, moments later, Hargrove abruptly slowed, his gearbox failing.
Hargrove kept going – and almost collided with Pigot as his rival passed him at Turn 8 – but only as far as the pits. His title hopes, along with his transmission, had been shattered.
Gutierrez duly stroked home to the win, while Costa maintained his streak of top-five finishes with second place ahead of Blackstock, who secured his second podium within a week. Aitken came home fourth ahead of an elated Pigot and Bickers, then teammate Alex Keyes who capped an excellent debut weekend with another strong result.