Kenton Koch discovers drafting at Road America can be both helpful and cruel.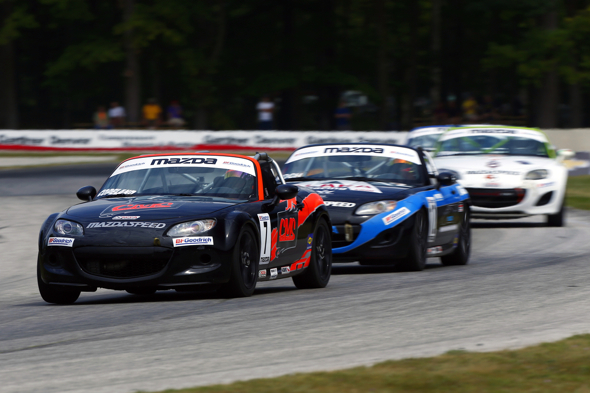 Road America is known for its intense racing due to its mix of fast corners, insane drafting and long straights; it's North America's Nurburgring. In the Mazda MX-5 Cup Presented by BFGoodrich® Tires, these cars create a very big hole in the air, which creates Talladega-like drafting battles, resulting in multiple lead changes per lap. The winner is almost never predicted; it's a chess game to be able to take the win at this famous track. I was able to capture both poles, a new track record, and finish fifth in Round 9 and second in Round 10 of the series championship, stretching my points lead from 55 to 90 by the end of the weekend. Being quick just isn't enough.
In Round 9, I didn't have luck go my way. I was running in the top three, leading when I could and biding my time – not taking any risks that would likely take me out of the race. If you want to win here, you have to have someone to work with. No one in the top five was willing to help me, so anytime I got to the lead, two or three cars would drive around me. When you're leading the championship, sometimes people aren't always your friend. So whenever I was third or fourth, I had to use the accordion effect in the braking zones to be able to make a pass (the car behind can't brake as deep as the person in front, therefore making them vulnerable). Rarely did I ever get a push from behind. I was caught out in Turn 6 when I lost my momentum from an incident that occurred in front of me, which sent me back to ninth. I spent the remainder of the race working my way through a pack of four cars and was able to gap the pack behind and catch the lead pack without drafting help. We had the pace for the podium but just got caught out in one of those racing deals.
Strategy plays a huge role on how a race can unfold at a track like this. Establishing someone to work with and experimenting where you need to be in order to come across the line first is crucial to getting the win. In the first race, I was stronger coming out of the Carousel and the Kink. So I was planning to be second coming to the Kink, and make the pass for the lead in Canada Corner. I was planning on being third across the line and using the accordion effect into Turn 5 to make my move for second. I also found that I could stay in third comfortably if I defended in the brake zones so that the driver behind me couldn't utilize the accordion effect to pass me. But that went to the can when I was caught out in Turn 6. That's racing, as they say.
Round 10 went much better, as I led the most laps and was able to work with Dean Copeland. We established beforehand that we would push each other no matter what. Since I was caught out in the previous race, I wanted to make sure I had someone to work with. This proved to be crucial as I led more than half the race. Near that latter half of the race, I was running in third place coming out of the last corner with John Dean (the driver in second place in the championship) who had a mechanical failure, which sent him sideways and almost into me. He did an amazing job of gathering it back up and not making contact with a wall. After this, Copeland and I worked our way to the front. We ended up pulling a slight gap on P3. When the white flag dropped, I sat P2 and was going to make my move into Turn 5, but wasn't able to get it done as I would have had to drop two wheels on the inside to make it work. I wasn't about to make a stupid move like that, since my main competition for the championship was sitting in the pits. I settled with P2 and a smile on my face!
Coming into Road Atlanta all we have to do is keep our nose clean and finish in 11th or higher to clinch the championship. So I am going to quarantine myself for the next two months to just make sure I can be there at Road Atlanta, one of my favorite tracks.
This all wouldn't be possible without the help of Mazda, BFGoodrich® Tires, Hawk Pads, Skip Barber and, of course, my parents. Let's finish strong!