Hi everyone. So with almost half the season gone I'm writing to let you know a bit about myself and how my season has turned out so far. I'm Luke Gabin, one of the MAZDASPEED Motorsports Development-supported drivers for 2014, racing in the Skip Barber Formula Summer Series and I'm the 2013 Skip Barber Karts to Cars Scholarship winner.
I have moved to the USA from my hometown of Perth, Australia, to live here for the whole Skip Barber summer series. Acclimating to American life so far has been awesome; it's a great experiencing living in a different country. The number of places I have travelled to to race in the Skip Barber series has been incredible. Seeing America this way is amazing. I am extremely grateful to be living in Windsor, Canada with Olivier Cote (a fellow racer) and his family, who have shown amazing hospitality!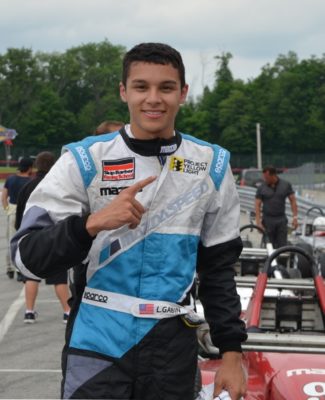 I was born and raised in Perth, Western Australia. I got into motorsport six years ago at the fairly late age of 13 and raced in karts for five years, including Juniors 100c, Senior TAG, KF and KZ2. I am from a family with really no motorsport affiliation, so learning the ins and outs of racing was a huge challenge at the start. However, I have come a long way since then and in the past few years I have learned more than I would ever imagine. I definitely felt ready to make the step into cars this year and after winning the Karts to Cars Scholarship, I was set on cars for sure!
In my off time I really like to go road biking for fun and to keep on top of my fitness for the race series. This year I've decided to take a break from studies. In 2013 I studied information technology as a full-time student at Edith Cowan University in Perth. I have deferred my studies because I really just want to focus on racing and try my best to win the championship.
For training before races, I like to get my focus up by using simulators such as iRacing, and watching onboard video to learn the track. I feel this really helps my performance and mental state going into a race.
At the moment we have just completed Rounds 7 and 8 at Lime Rock Park, Connecticut where I won both races of the weekend. The season so far has been extremely tough; the competition at Skip Barber has been incredible and the racing is amazing and some of the cleanest that I have experienced to date. So far I have racked up six wins, which I'm extremely happy with. I'm also pleased with my standing in the series.
The high point of the series so far has definitely been taking the first win at my first race of the season. That being said, I have had my fair share of low points, especially when I crashed in the rain in practice. Although I didn't do much damage, it reminded me that there's a lot at stake when racing. My aim for the rest of the season is to mainly stay consistent and remain in the hunt for the season championship. It's going to be a tight finish!
Lastly, I'd like to extend a huge thanks to Skip Barber and MAZDASPEED for giving me the opportunity to race this year. My parents and I would have struggled to make this possible without the scholarship.