As a development series attracting young racers who have their eyes on the faster ranks of sports car racing, the Mazda MX-5 Cup Presented by BFGoodrich has a lot of turnover. That means a large crop of fresh rookies each season. Sometimes those rookies are getting their first taste of professional racing. Whether they are or not, performing on this stage that includes some of the country's great venues and often includes audiences of top-flight Verizon IndyCar Series and TUDOR United SportsCar Championship teams means added pressure to excel.
Between the Mazda MX-5 Cup ranks and the Skip Barber MAZDASPEED Pro Challenge lineup, the series features 13 rookies. Each has faced their own set of individual challenges while making good showings in each of the season's first six races.
Kenton Koch, of Glendora, Calif., currently leads the Championship standings, and is well within the hunt to capture the Mazda Motorsports scholarship that will go to the season-ending point leader. Koch stepped up to the Cup class after last season's dominating performance in the Pro Challenge. Even with two wins under his belt prior to his Houston Sweep, Koch still said he has some learning to do this year.
"I'm feeling pretty good so far about how the season has progressed," Koch said. "I've had a steep learning curve, so far, and feel that after rounds three and four that I'm mentally prepared, as well as physically prepared. The second half of the season is where we will really come alive."
Another rookie driver in the mix during this year's Mazda MX-5 Cup battle is Devin Jones, of Mooresville, N.C. With a background in kart racing, Jones is not a stranger to road course racing. However, his most recent foray into motorsports was while racing stockcars. The switch to a new form of racing is not an easy thing to do.
"I think my progression, to date, has been very solid," Jones said. "The team and I have been working well together and adjusting to this new form of racing. With Sebring being the first time I ever raced in a sports car, I feel that I have adapted quickly and am becoming more comfortable as I push the limits of the car."
While Jones has been satisfied with his results, he is planning to aim higher for the remainder of the season.
"We have accomplished the goals we set, to this point in the season," Jones said "Now, as we look to the second half of the season, we are eager to reach new goals as our expectations grow. I want to progress each race with the goal to get on the podium before the end of the season. We plan on being in this series next season and want to lay down a solid foundation to build on for 2015."
Sarah Montgomery, of Lafayette, Louisiana, is another talented driver making her way in the male-dominated world of motorsports by taking the wheel of a Skip Barber Pro Challenge car. So far, the attention gained by racing in such a well-respected and popular development series has been a pleasant surprise for this up-and-coming driver.
"This series has honestly exceeded my expectations," Montgomery said. "I knew that it was a popular series, and that a lot of attention would be put on the drivers, but I never realized how much attention we would get! I have honestly never had so much fun racing than I have here. Everyone wants to have a good time, while trying to win the Championship. People show a lot of respect for one another, and you can't get that anywhere else."
Montgomery's overall impressions of the series are not the only things that have been topped. The visibility of the series, and its participants, has been a huge step in her racecar-driving career aspirations.
"One of my main goals was to get some attention, and somewhat get my name out there in the press and to the public. The marketing personnel for the Mazda MX-5 Cup and also for Skip Barber have done an excellent job at surpassing my goals of getting 'a little' attention."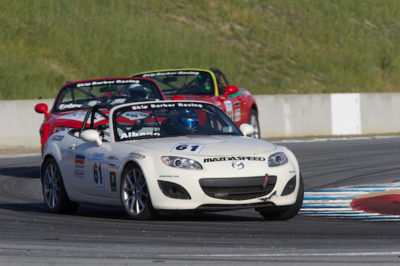 Ben Albano, of Greenwich, Connecticut, is another rookie making waves in the Skip Barber MAZDASPEED Pro Challenge, sitting second in the points after Houston. Moving to this level of professional racing, Albano knew it was not going to be easy. However, he has shown the confidence and skill needed to find his way to the front having already notched a win this season. "The Skip Barber Mazdaspeed Pro Challenge is going as expected for me," Albano said. "I knew going into the series that I was a rookie, and that nearly every driver that I would be competing with had, at least, a year of experience on me. That being said, I have had many years of experience driving Mazda MX-5s and I expected to be near the top of the leaderboard, which is where I am. I am content with how the series is going, and am happy with my progress from the first weekend at Sebring to now, nearly halfway through the year."
Albano gives credit to both the Skip Barber and SCCA Pro Racing staff for how well the series is run. Without having to worry about the behind-the-scenes details, Albano says it gives him the peace of mind it takes to compete at a high level. With the competition being so tight, he sees that as an advantage.
"The series is incredibly competitive," Albano said. "There are really no two ways about it. If a person wanted to know how competitive the series is, all they would need to look at are the qualifying times for each race. The top five drivers are usually covered by no more than 0.5-second, which not only gives testament to how close the drivers are, but also how the Skip Barber crew gives everyone such an equal car."
All four of these drivers have their sights set on racing at the top levels of sports car racing. For each of these drivers a championship could go a long way toward that goal.
"I would like to be an asset to Mazda through the promotion of their brand and its partners," Albano said. "I also aspire to become a driver in the Continental Tire Sports Car Challenge in the next few years, and eventually to compete in the TUDOR United SportsCar Championship. I know that if I continue to do well racing Mazdas, their support will allow me to keep going and eventually achieve my goals."
While Albano has his eye on the prize, Koch may have summed up his career desires in the most succinct way possible.
"I want to be a factory Mazda driver in the SKYACTIV Prototype," Koch said. "For the rest of this year my goal is to be as consistent as possible, and make smart decisions. Being aggressive, in a smart way, is going to be crucial to be holding a check at the end of the year."
Koch takes his fight to be not only Rookie of the Year, but champion, to Canadian Tire Motorsports Park for a doubleheader on Saturday, where he will attempt to hold and strengthen his points lead over John Dean II.