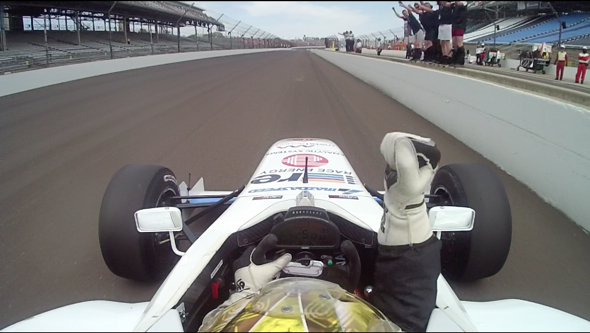 Hello everyone! We are exactly half way through the season, making this a fantastic time to provide an update on the highs and lows of 2014 to date.
By the end of April we were four races into the season and I had three podium results including two second-place finishes, leaving me tied for second in the championship, 40 points behind the leader. We had been doing a good job, but it was time to take control and that is exactly what we did. Now, seven races into the championship, I am three points out of the lead with six podium finishes, including two wins.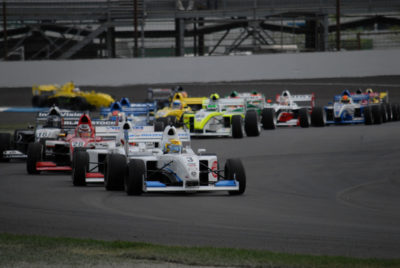 Those two wins were a breakthrough for myself and the team, as it was my first regular season win in Pro Mazda and the first for Cape Motorsports with Wayne Taylor Racing, a massive accomplishment for both of us considering the age of this program. During the Sunday race, we got a one-two finish with my teammate, Neil Alberico, finishing second. As a result the team manned up and stuck to a bet we had made earlier on: that if we ever get a one-two finish they have to pull their pants down on the pit wall. The photo evidence is hilarious.
So that leaves us up to today. The next race is from June 27-29 in Houston, where last year the heat was close to unbearable! It was also where I clinched the USF2000 championship, so needless to say I have fond memories there.
Outside of racing my life has been equally hectic! One of the things I try to do in each city I visit is go to the local children's hospitals and spend some time with the kids, sharing signed hero cards and model cars. During one of my visits I met a boy in Indianapolis whose brother is terminally ill. His brother's name is Josh and his mission is to give away 100,000 small plastic red diamonds.
"I'd like to give you this diamond" he would say as he placed a small plastic red diamond into your hands. He would cradle your hand in both of his and explain "It's red because I love you. Love matters. We need to love in a way that makes a difference. It's a diamond because God does amazing things under heat and pressure. He does His best work when life is the hardest. Don't forget that, OK?" His family gave me a whole bag of diamonds to share with people I know. It was a very touching experience. You can read more about it at reddiamonddays.com.
When I do get a chance to be home, there isn't always a lot to do, so I've really put a focus on becoming more fit. There was nothing more motivating than finishing second twice at Barber, being so close to a win in both races. I've lost a significant amount of weight since then and I'm feeling better than ever!
Unfortunately with the busy schedule, school has been set aside along with my love for science as I chase this dream of becoming a racecar driver. However, whenever I get the chance I like to educate myself by watching science videos late into the night, mainly about the universe and the physics behind it. Throughout high school, physics was always the class I looked forward to most. One day I would love to take my knowledge to a post-secondary level!
My RX-7 is still in one piece. I finally got around to putting a muffler on it. I think my neighbors are happy about that! I have seriously considered wearing earplugs while driving, as my ears would also ring when I got out of the car.
I got the chance to visit with Neil in California between testing and racing. We managed to go outdoor rock climbing one day. Neither of us had ever climbed before and it was definitely something I want to continue doing here in Vancouver. Neil was belaying me – putting friction on the rope so I can't fall – which was probably the most uncomfortable part of the whole experience! Fortunately when I fell the first time he secured the rope and I didn't fall to my death. That was taking teamwork and trust to a whole other level!
That's pretty much it for me at this point. In my last blog, I said, "This will be a fun year and I'm sure it will be a dogfight right to the end. One thing is for sure however; we are here to win. There are no excuses with this team and we will all give it everything we've got to make it to that top step at the end of the year." This is as true as ever and I can't wait to see how the second half of the year treats us.
Until then, take care! See you next time!