Bill Schenker will admit that his MiataRoadster/ChaseCam/OS Giken Miata, prepared for SCCA Solo in the C Street Prepared class, is expensive. Too expensive, in fact. But, he says, that's only because of a lot of trial and error that probably should not have happened.
"People always talk about my car, and it's unfortunately probably true…. I made this class very expensive to be in," the former Olympic skier says. "Part of it is I came into this sport with no motorsports knowledge at all. Most I'd done is rebuild a carb. I did a lot of trial and error. This is an expensive car because there are a lot of steps along the way."
There may have been a lot of error, but Schenker has hit upon a pretty good combination of tuning to make a winning car in CSP. He's regularly at the top of the timesheets at events like the recent San Diego Solo Championship Tour, and has finished second in the Solo National Championships
The car started out as a new 1999 10th Anniversary Miata, and Schenker has been autocrossing the car that his mother bought on tax day of that year ever since. And in that time, he's pushed the Street Prepared rules as far as they'll go.
"It's called Street Prepared, but there's no street left in it. It has no emissions, there's no safety – I have a racing wheel in it so there's no airbag. Not only is it not legal for the street, I wouldn't drive it on the street."
The rules allow for suspension changes and motor prep, along with interior removal. But the real trick part of the Street Prepared rule is that updates and backdates of parts are allowed. Because the NA and NB Miatas are so similar, that means there is a huge selection of components to choose from – 15 years' worth.
"There are parts that are maybe lighter weight, that you wouldn't be very comfortable with on the street. As the car developed, they made a more modern, comfortable car – but other parts may be nice and light. It started out as a 1999 Miata, but it has a 1990 dashboard in it – which was great difficulty because the wiring of the instrument binnacle is different and you're not allowed to cut wires; we had to pull out wires and individually put them back in and make them all functional.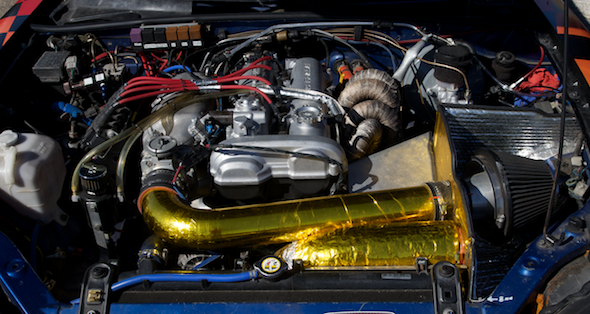 "I have a 2001 motor in it, because that VVT motor is a much stronger motor. I have bigger brakes in the rear, the '99 rotors; but I have the NA 1.6 brake rotor size on the front. I have Wilwood calipers all around."
Another update/backdate piece is the tonneau cover that came only on the '93 British Racing Green model. Schenker uses it to clean up the air flowing to the massive 10-inch spoiler.
Beyond that, the car features an OS Giken Super Lock limited slip differential, an OS Giken single-plate clutch, Koni 2812 custom-valved shocks, Swift springs and a Speedway Engineering blade-style front anti-sway bar. He's got Bogart Racing 15×10 aluminum wheels shod with 275/35=15 Hoosier A6 tires.
The parts are important but, as Schenker says, "It's not the money you spend, it's how you put it all together. Suspension is everything, and shocks are the most important."