Mazda Motorsports & BFGoodrich® Tires
Celebrating Decades of Success
In 1984, Mazda, BFGoodrich®Tires and Jim Busby Racing teamed up to score an historic class win at the 24 Hours of Le Mans. The car, a Lola T-616, was powered by a Mazda 13B rotary engine and shod with experimental BFGoodrich T/A™ Radial street tires. The drivers were John Morton, John O'Steen and Yoshami Katayama, and between them, they brought home a real David vs Goliath win in the C-2 class. It was also just one of many great collaborations between Mazda and BFGoodrich® Tires, some of which date to the earliest days of Mazda's racing exploits in the U.S.
To celebrate the 30th anniversary of the Le Mans win, Mazda and BFGoodrich have entered John Morton in a Skip Barber Racing School Mazda MX-5 Miata, wrapped in the same colors as the '84 Lola T-616, in the SCCA Pro Racing Mazda MX-5 Cup Presented by BFGoodrich® Tires at Mazda Raceway Laguna Seca this weekend. The two Lola T-616 Mazdas also will be on display at Mazda Raceway, courtesy of owner John Davis.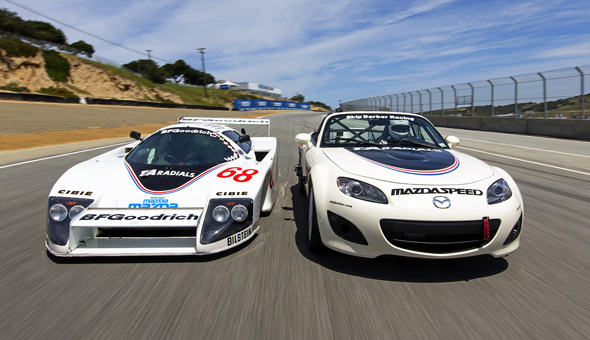 Quotes:
John Doonan, Motorsports Director, Mazda North American Operations: "The mindset of Mazda and BFGoodrich are so similar. We both employ a race-what-you-sell strategy, thus we have been able to work exceedingly well together. While race fans remember Mazda for the overall win at Le Mans in 1991, it was the C-2 class win in 1984 that was the first for any Japanese brand at Le Mans. We're using this weekend to celebrate our 40-plus years of professional and personal partnership with BFGoodrich® Tires."
Peter Calhoun, Motorsport Marketing Manager, BFGoodrich® Tires: "The best way to develop tires is to have great partners. Mazda has been a great partner with BFGoodrich, and when we talked with some of the past engineers they fondly remember John Morton for his testing abilities as well as his racing prowess."
John Morton, race car driver: "My first experience with both BFGoodrich® Tires and Mazda was at the 1984 24 Hours of Le Mans. Jim Busby asked me to drive one of his Mazda-powered Lola T-616s equipped with BFGoodrich street-construction radial tires. I co-drove with John O'Steen and Yoshami Katayama, winning the C-2 Class after a very exciting and rewarding 24 hours. In 1985 and 1986, I was part of the BFG IMSA GTP effort, doing most of the tire testing as BFG developed a racing tire based on the Le Mans-winning street radial concept. Being given the opportunity to again race a Mazda in BFGoodrich livery, 30 years after the historical 1984 Le Mans victory, will be a real treat for me."
In the early 1970s, Mazda established their racing credibility in the IMSA BFGoodrich Radial Challenge. It was the ideal place to race the new Mazda RX-2, followed by the RX-3, which at the time were radical cars, powered by the first mass-market rotary engines. At the same time BFGoodrich showcased to the world that a radial street tire could be used in competition.
In 1984, BFGoodrich expanded their motorsports program beyond the U.S. border, resulting in an entire season racing internationally with Mazda in the C-2 World Championship. In addition to the Le Mans win, the Busby team scored a win at the Monza 1000km and podium finishes at the Nurbürgring and Fuji races.
Today, the most visible partnership between Mazda Motorsports and BFGoodrich® Tires is the SCCA Pro Racing Mazda MX-5 Cup Presented by BFGoodrich® Tires. The 2014 MX-5 Cup season kicked off in Sebring with a record 38 entries. New for the 2014 season is the latest BFGoodrich g-Force R1-S tire.
About Mazda, Mazda Motorsports, and MAZDASPEED
Mazda is a leading player in all aspects of sports car racing with an emphasis on endurance racing. Mazda is the number-one brand for road-racers across North America among both club racers and professionals. Thousands of Mazda-powered grassroots racers compete in various classes with the SCCA and NASA highlighted by Spec Miata, the world's largest spec class with over 2,500 cars built. Via the Mazda SportsCar Racing Academy, Mazda supports racers at all levels of the sport from club racing up to the TUDOR United SportsCar Championship where it races with production SKYACTIV Technology.
Mazda remains the only Asian car company to score an overall win at the 24 Hours of Le Mans (1991). Mazda has been the title sponsor of Mazda Raceway Laguna Seca since 2000.
Mazda Motorsports is managed by Mazda North American Operations (MNAO). MNAO is headquartered in Irvine, Calif., and oversees the sales, marketing, parts and customer service support of Mazda vehicles in the United States and Mexico through nearly 700 dealers. Operations in Mexico are managed by Mazda Motor de Mexico in Mexico City.
Consumer information can be found at www.mazdausa.com, with press information at www.mazdausamedia.com. Racers and fans can follow the action on Facebook (Mazda Motorsport), Twitter (@mazdaracing), Instagram (MazdaMotorsport) and www.mazdamotorsports.com
About BFGoodrich® Tires
Using motorsports as a proving ground for more than 40 years, BFGoodrich® Tires is involved in every type of racing, including sports car, desert, short course, and extreme rock crawling. BFGoodrich® Tires combines technological expertise with vast motorsports experience, delivering a high-performance tire for every type of vehicle. Visit BFGoodrich® Tires at www.BFGoodrichTires.com, www.BFGoodrichRacing.com, on Facebook at www.Facebook.com/BFGoodrichTires, on Twitter at @BFGoodrichTires, or Instagram at BFGoodrichTires.