Each new season of the SCCA Pro Racing Mazda MX-5 Cup Presented by BFGoodrich® Tires brings new contenders for the championship and the Mazda SportsCar Racing Academy scholarship that goes with it. As the series prepares for its season opener this week at Sebring International Raceway, there are several new faces that have their eyes on the prize.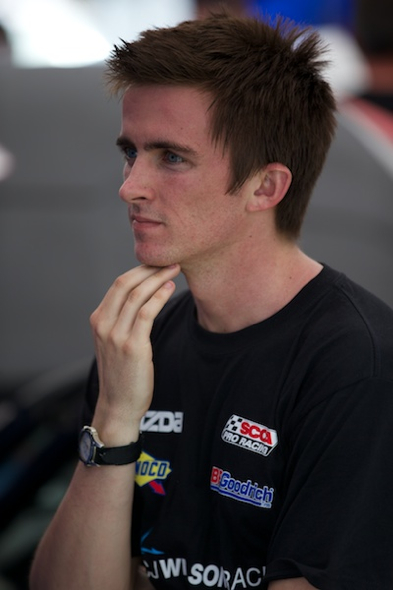 Of the 32 Mazda MX-5 Cup drivers entered for Rounds 1 and 2, Ten of them are newcomers in some form or another. Chief among them is Joey Bickers, of Moorpark, Calif., who will drive the No. 29 Mazda Motorsports Development MX-5 for CJ Wilson Racing. Bickers comes to the series with many accolades on his racing resume, the most recent as the Mazda Club Racer Shootout winner that earned him the fully-funded season in the series. Aside from that, Bickers was also selected to be part of the Team USA Scholarship in 2013. His steep ascent up racing's learning curve marks him as an early favorite.
Another face to watch, and the dominant winner of the Skip Barber MAZDASPEED Pro Challenge in 2013, is Kenton Koch. He'll be driving the No. 12 Mazda Motorsports Development MX-5 for defending champions ALARA Racing. Since the MAZDASPEED Pro Challenge competes in the same races using slightly different MX-5s, he'll have a leg up on many of the rookies.
The father and son combination of Joseph (No. 18 Atlanta Motorsports Group/ NY Spine & Wellness/SOS MX-5), and 20-year-old Lucas (No. 17 Atlanta Motorsports Group/ NY Spine & Wellness/SOS MX-5) Catania, both of Cazenovia, NY, will be two drivers to watch. Lucas competed in select races of the Pirelli World Challenge last year. In addition, the return of Atlanta Motorsports Group to the Mazda MX-5 Cup paddock will be worth following. Including series sophomore Sebastian Landy (No. 49 Excitations.com/Atlanta Motorsports Group MX-5), of Great Falls, Va., the team brings well-prepared cars and a winning heritage, including three Mazda MX-5 Cup Championship titles and 20 wins in the series.
John Dean, of Sebring, Fla., is sure to be in the championship picture when all is said and done. Driving the No. 16 Projections Research/PPG MX-5, he finished 2013 third in the title fight. Throughout last year's campaign, Dean did not finish lower than fifth place in a race.
Dean's Sick Sideways teammate, Nathanial Sparks, will be another driver on which to keep tabs. Sparks, of Spanish Fort, Ala., finished just behind Dean in the 2013 Championship standings after notching a season-high third-place finish in Round 1 at Sebring. His consistent on-track performances may serve him well while the crop of new drivers learns the cars and the circuits.
Patrick Gallagher, of Thornville, Ohio, is also a pre-season championship contender. Driving the No. 28 Howard Concrete Pumping/CTL Engineering MX-5, Gallagher showed blinding speed during his rookie season. In six of 12 races in 2013, he qualified higher than his finishing position in the race. With a year of experience under his belt, Gallagher, who won the 2012 Mazda Club Racer Shootout, may be able to convert fast laps into podium finishes and championship points.
While these drivers may be considered pre-season favorites, the ultra-competitive racing that has come to characterize the Mazda MX-5 Cup can easily produce exciting and captivating alternative results. If one can learn anything from the history of this series, it is that anything is possible once the cars hit the track. Since the series' inception, there have been three rookies who have gone on to claim the championship title. Heading into year nine of competition, the possibilities for the upcoming season are wide open.
Round 1 of the Championship takes place today (Thursday) with Dean on the pole; Round 2 set to take the green flag on Friday morning at 7:45.