Michael Epps came into Barber Motorsports Park for the second half of the Cooper Tires Winterfest blazing, but in the end couldn't keep RC Enerson from leaving with the USF2000 Winterfest title.
Englishman Epps not only claimed his first USF2000 victory in Round 4 of the six-round Winterfest at Barber Motorsports Park on Tuesday, he also put an exclamation point on his day by dominating Round 5 later in the afternoon. Epps became the fourth different winner in as many races over five days.
His Belardi Auto Racing teammate Florian Latorre ensured an excellent day for the Indianapolis-based squad by claiming a pair of podium finishes, while Enerson maintained his championship lead by virtue of finishing fourth and second in the day's two races for Team E Racing.
After a brief rain shower obliged the entire field to switch to wet-weather Cooper tires on the grid for the first race of the day, Epps slipped back to third place in Turn 1 behind Latorre and Brazilian Victor Franzoni (Afterburner Autosport), who made a spectacular getaway to vault from sixth to second. The Englishman quickly set about redressing the balance following an early caution period.
Epps displaced Franzoni at the restart, then tracked down Latorre before making a decisive move to the inside under braking for Turn 5 on Lap 11. Once in front, Epps inched away to win as Latorre barely managed to edge out Franzoni for second.
Enerson finished fourth despite intense pressure from Jake Eidson (Cape Motorsports with Wayne Taylor Racing). A little farther back, Peter Portante snuck past ArmsUp Motorsports teammate Aaron Telitz for sixth on the final lap.
The track was fully dry for Race Two, and this time Epps remained in control throughout. His progress was interrupted by a couple of full-course cautions, but he was perfect on each of the restarts and took the checkered flag 1.948s clear of Enerson.
Latorre ran a relatively lonely third, while Telitz took a fine fourth following a race-long scrap with Eidson, with whom he had battled for last year's F1600 Championship Series crown. On this occasion it was Telitz who emerged on top.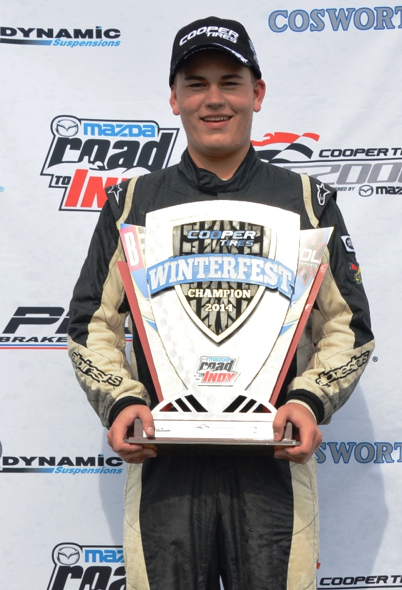 Enerson held a slim seven-point advantage – and the pole – for the third race at Barber on Wednesday. The 16-year old from New Port Richey made a perfect start and controlled the final round of the six-race Cooper Tires Winterfest for the Cooper Tires USF2000 Championship Powered by Mazda to secure both the race win and the mini-series spoils for Team E Racing.
Epps, who started second, needed to win the race and gain the bonus points for fastest race lap and most laps led in order to wrest away the title from Enerson. Epps wasn't quite able to match his double race-winning form from Tuesday – and came up just 0.003s shy of claiming the fastest lap point, which also went the way of Enerson – but still came away with yet another podium finish and second place in the final points tally. His efforts also ensured a comfortable Team Championship victory for Belardi Auto Racing.
Latorre held third place in the early stages before slipping back to fifth behind former F1600 Championship Series protagonists Aaron Telitz and Jake Eidson, who continued their battle from yesterday afternoon. Once again it was Telitz (ArmsUp Motorsports) who came out on top – by just 0.602s on this occasion – to claim a well-deserved maiden podium finish. Fourth place, meanwhile, was enough for Eidson (Cape Motorsports with Wayne Taylor Racing), from Lakewood, Colo., to clinch third place in the Cooper Tires Winterfest.
The regular USF2000 season will kick off on the Streets of St. Petersburg, Fla., on March 29-30 with a doubleheader event in support of the IndyCar Series.