Start on pole, lead every lap, win the race.
Jim Drago got the first and last parts of the instructions for dominance correct, but he seemed to forget the middle part during his quest for a second straight SCCA Spec Miata National Championship.
"The week had gone pretty much flawlessly," Drago says of the 2013 SCCA National Championship Runoffs at Road America last September. "The car was really good. We had gone through it, the car was fast and handled well right out of the trailer. In the race, I missed a shift on the first lap coming out of Turn 3, which dropped me back to seventh. I didn't know it at the time, but it was a terrible shift. I went from third to second instead of third to fourth. I bent three valves in the engine and went on to finish the race like that. The car was still good; it handled real well and seemed good on power. When I got into the lead, people were able to draft up. I would pull up, make a move and people would draft right past me. I attributed that to the draft, because the car was so good all week."
It wasn't until he was putting the engine back together – it had to come apart for tech – that he realized the extent of the damage. "I'm surprised it stayed together, because it revved to 8700," he says.
With an engine down on power on Road America's long straights, it makes the fact that Drago was able to get back up to the front and win his second title all the more impressive. And it wasn't a steady move to the front, but more of a constant shuffling up and back – up to third, back to fourth, into first, down to second and back again.
"I had a really good under-over move on Elivan [Goulart], which was the ultimate pass for the win. He's one of the best drivers in the SCCA, let alone our class, so that was neat to be able to do that," he says. He notes that he also moved up due to the mechanical misfortunes of other competitors, which is not the way he wanted to do it.
In addition to winning Spec Miata at the Runoffs, he also made the podium in Super Touring Lite, a race won by Rob Huffmaster in an RX-8. Drago drives a Miata in that class as well, and has it set up very similarly to his Spec Miata so he doesn't have to adjust shift points, making it easier to switch between the two. He says he chose to compete in STL because he was on the Club Racing Board that writes the rules, and the class looked interesting. With no one he knew building an STL car, he thought he'd give it a try.
Racing two different classes and being on the Club Racing Board is a long way from the guy who thought he really had no interest in racing, even as he was doing track driving events in a '93 RX-7. It was only the fact that his friend rented space to Jim Daniels, one of the fathers of Spec Miata who also hails from the Memphis area, that he got sucked in.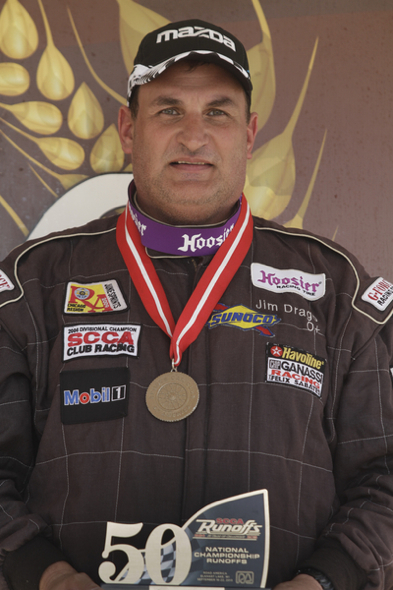 "We saw him dynoing cars back there and we started looking into it and decided it would be an inexpensive next step," Drago explains of how the racing bug bit. "I never had any intention of winning any races or even racing in general. But early on I noticed I was pretty good at it and we just kept working at it. We still have the RX-7 and it's a total street car – I never bring it to the track anymore. In fact, I was looking at Z06 Corvettes, because I assumed I would never have this much fun in the Miata – it was just too slow. After the first two or three race weekends, I never missed the speed because the competition is so great. The door-to-door racing is so much more intense than going fast on the straightaway."
Being in the auto salvage business, before that Drago had a hard time thinking about cutting up a car and putting in a roll cage, making it unsellable as a street car. Now the father of two teenagers builds racecars for others, with two full time employees helping him out. They build the engines, transmissions – build whole cars from the ground up.
Indeed, it is a long way from the guy who didn't really think he'd ever go racing. From thinking it wasn't possible to two National Championships, all thanks to a Spec Miata.