Racing is a family affair for Cal Vandaalen. The Mazda Club Racer Shootout finalist earned his spot by first winning the Toyo Tires Spec Miata Championship in Nova Scotia, Canada, a series that his father, Blu Vandaalen, and Bruce McNutt – one of last year's finalists – founded. When Cal wasn't standing on top of the podium following one of the 2013 races at Atlantic Motorsports Park, his father was.
The family's history in motorsports goes back even farther. Cal's grandfather built and operated a third-mile oval.
"It's always been in the blood, so to speak," says Cal. "When my father found out my mother was pregnant, three days later he went out and bought his first racecar. I always went to the races as a kid and watched him. He took a break from driving and worked in the American Le Mans Series for a while and I would go to those races – he was crewing. He got me into karting and I did that for three years; as soon as I was eligible to run a sedan, I jumped straight into it."
The Toyo Tires Spec Miata Championship is a 15-race series, with all the races held at Nova Scotia's only permanent road racing facility (the nearest other track is more than a 12-hour tow away). Each event usually attracts around a dozen cars.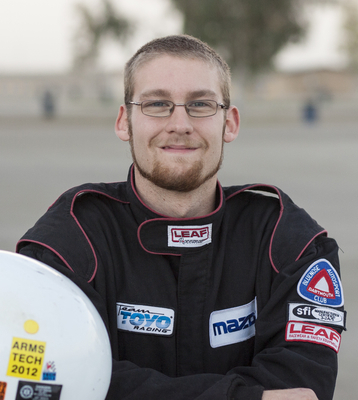 "There are a minimum of five frontrunners at all times, the ones that are there every race making sure they're going to be eligible for the Shootout," Vandaalen says. "That's right there in the goals for our series – coming to the Shootout. We're always looking for more, but 12 cars in a class is a huge improvement. There's no class at home that's got 12 cars in it besides Spec Miata, so it's definitely the most fierce and most competitive."
Vandaalen's business proposal and video got him into the finals, but first he had to win the championship.
"I was able to finish every race, stay consistent and made sure the cars were ready for every race without any mechanical faults. I had multiple parts that were changed over the year to make sure they were in good running order for each event. All those contributed to keeping me going, staying consistent and putting me ahead of the competition," he says.
Vandaalen's ultimate racing goal is endurance racing in the Tudor United SportsCar Championship. He's hoping his status as a finalist in the Mazda Club Racer shootout might attract attention from a team in the Mazda MX-5 Cup Presented by BFGoodrich or perhaps the Canadian Touring Car Championship to help him toward his goal. In the meantime he will continue as an installer for Maritime Dock & Door, the family business.
In his spare time he enjoys working on cars – he says he has six in the driveway that he's fixing up to sell. In the offseason, he loves sliding sideways in RallyCross competition. Racing, he says, is his life, and even though he didn't win the Mazda Club Racer Shootout, the experience was rewarding.
"There's no other way to get you out there and show all your different skills," he says. "It's a great process. You get a little bit of everything – you get the interviews you're not going to expect as a club racer; you get to drive the car; you get to work with the crew. Just having someone there that can show you the ropes if you're not used to it is a tremendous help. They're throwing you in the hot seat and seeing what you can do."