With the excitement surrounding a brand-new sports car series in the TUDOR United SportsCar Championship and Mazda's participation in the Prototype division, it's easy to overlook the continuing and ever-improving competition in the Continental Tire SportsCar Challenge. Two teams, both running MX-5s, return to contest the Street Tuner class in the endurance series for lightly modified production-based cars.
Freedom Autosport heads into 2014 with two full-time cars, with a third running in select races. CJ Wilson Racing will also run two cars.
Freedom Autosport's No. 25 will be piloted by Mark and Mat Pombo. The pair previously drove for i-Moto Racing, which is moving to Pirelli World Challenge for 2014. Mark is a veteran, having deployed to Iraq in 2003 as a member of the Army Reserve, making him a good fit for a team that honors the men and women of the U.S. military and raises money for the Injured Marine Semper Fi Fund.
Returning driver Andrew Carbonell, who has been with the team for six seasons, will drive the No. 26. He will be joined by Randy Pobst, who drove for the team in a few 2011 races.
In addition to the full-time cars, the team will add a No. 27 MX-5 for a few races, with experienced driver Tom Long – when his Mazda Prototype driving schedule allows – joined by Liam Dwyer. Dwyer is a veteran who lost part of his left leg and suffered damage to his right leg and arm from an IED in Afghanistan.
"I am thrilled at Freedom Autosport's driver lineup for 2014," says team principal Glenn Long. "We have outstanding talent in all positions with our drivers, the entire crew and prior season's experiences to know how to put together a winning season as a focused and skilled team."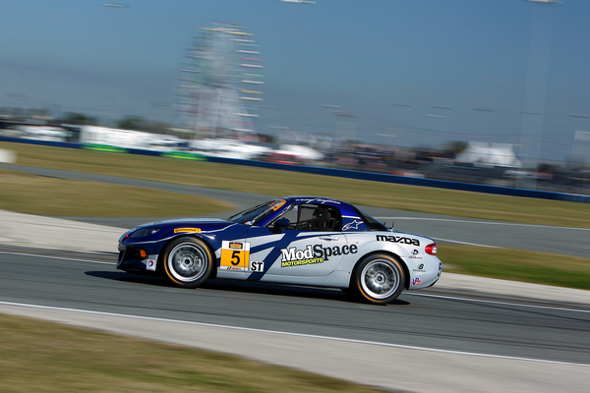 CJ Wilson Racing will also run two cars in 2014, with four drivers returning to the team for the coming season. Marc Miller and Tyler McQuarrie will drive the No. 3 Head and Shoulders car, while Stevan McAleer and Chad McCumbee will drive the No. 5 ModSpace MX-5. Elliott Skeer, fresh off a strong season in the Playboy Mazda MX-5 Cup, will bolster the team as official test and reserve driver.
"The new race season is here and we have been looking forward to it greatly," says team owner CJ Wilson. "As a team we trended upward and won some races last season – and keeping all four of our drivers together makes our team even stronger than 2013. After two years of developing we really feel like this will be our best year yet from a partnership standpoint and from the pit crew and driver perspective everyone is amped and ready to fight for a championship."
The 2014 season gets started today, Jan. 24, with the BMW Performance 200 at Daytona International Speedway.