When Mazda announced it was going to go racing in the Prototype category of the TUDOR United SportsCar Championship, it seemed like a logical next step in its professional endurance sports car racing program. With the GX category going away under the new united championship born from the Grand-American Rolex Sports Car Series and the American Le Mans Series, The Mazda6 SKYACTIV-D Clean Diesel no longer had a place to race. Mazda had a proven engine in need of a home and with existing prototype chassis like the Lola B12/80 available, mating them seemed obvious.
Despite the fact that both pieces of the puzzle are proven, though, bringing them together is not as simple a task as it might seem. The development process with SpeedSource Engineering has been long and challenging, and it will continue in front of fans and television cameras at this weekend's Rolex 24 at Daytona, the longest professional endurance race in the U.S. and the first race of the TUDOR Championship.
"The engine became a powerful, competitive GX engine, but we knew the step up for LMP2 power levels, which is another 50hp from a 2.2-liter, four-cylinder engine, was a massive step," says Sylvain Tremblay, SpeedSource's principal and driver of the No. 70 Mazda Prototype.
"One of the things that has been a bigger issue than anticipated has been the cooling requirements," he continues. "Our GX Mazda6 had a fantastic cooling package. Now fast forward to a car that is very aero dependent. Every square inch of cooling you take away from downforce is going to affect performance and increase drag. [Computational Fluid Dynamics] is still an art. We can have the laboratory results we want; but in the real world it's slightly different. As we try to balance the downforce to cooling equation, it has been difficult thus far."
The other challenge SpeedSource faces as it works to make the prototype fast and reliable is the very thing that may be the car's greatest strength: torque. The SKYACTIV-D engine, as is characteristic of many turbo diesel engines, is capable of producing prodigious amounts of torque. But in this case, it does so a little differently than, say, the V10 turbo diesel engine that Audi had so much success with at the 24 Hours of Le Mans.
"The torque output of this engine is fabulous for what it is," explains Tremblay. "But it's done in a different way than in some of the other engine configurations. A V6, for example, every revolution has x amount of hits. In this four cylinder there are two big power pulses per revolution. It's hard to manage that instantaneous torque. So we've been breaking a lot of drivetrain components as we try to find the right equation.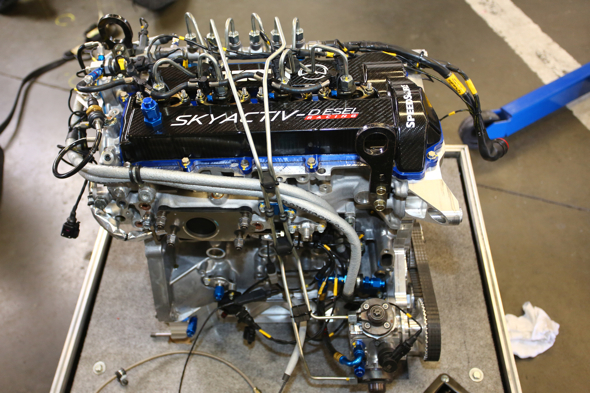 "It's a similar situation as we had in GX, although it's a completely different solution. In GX we had a driveshaft; here this is almost a direct drive. So the clutch is behind the engine, it's driven crankshaft speed and we have a short input shaft that goes through the bell housing direct into the gearbox. We have less room to absorb the instantaneous torque spikes than before. We have some engineering solutions we have tried; some have been positive and some have not worked. We have a new solution we have been working on for the Rolex 24 that we're hoping will dampen some of those instantaneous torque spikes."
There are two approaches to solving the problem as Tremblay describes it. One is to strengthen a component, which has the effect of moving the forces down the chain to the next component in the drivetrain. The other is to make some components softer to try to dampen the forces. A mix of both methods is being evaluated by SpeedSource engineers to put the torque to the ground without breaking parts.
There are certainly worse problems to have than too much torque. But it's one of only several hurdles Mazda and SpeedSource will encounter as they try to develop their new prototype racer into a winner against some very stiff competition.