Michael Whelden loves Sonoma Raceway. To begin with, it's his home track – between his hometown of Sausalito and his current residence in Napa, he's lived 30 minutes away from the circuit in California's Wine Country most his life.
"I have a couple thousand miles there now," he says. "The sweeping hills make that track a unique challenge."
Of course, winning the 2013 Formula Car Challenge Pro Mazda National Championship during the GoPro Indy Grand Prix of Sonoma didn't hurt either.
"It was a really exciting moment and a great weekend. Pole, fast lap and win, then pole, fast lap and win again. You can't ask for a better weekend. For a young driver like myself, you kind of relish the moment…you get to perform in front of big teams like that, teams that I hopefully get to drive for one day," he says.
The Formula Car Challenge Presented by Goodyear is a series for three different classes of Mazda-powered racecars, conducted in four divisions – West Coast, Midwest, Southwest and Southeast. The three categories are Pro Formula Mazda – the same cars that compete in the Pro Mazda Championship; the original Formula Mazdas; and the FormulaSPEED2.0, a car created by World Speed and powered by the Mazda MZR engine. While there are four regions, it all comes together in the national championship event held at Sonoma Raceway.
Sonoma Raceway is also the home base for the West Coast Region – the majority of events are held there, although the series also visits Mazda Raceway Laguna Seca, Portland International Raceway and Thunderhill Motorsports Park. The race at Mazda Raceway, run with SCCA instead of the usual NASA weekend, was especially interesting for Whelden.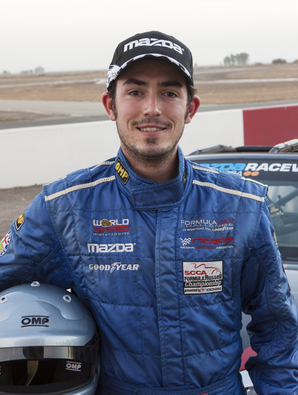 "It was a tripleheader, but only two of the races counted toward the championship. It was a good weekend. I was fast and I really liked the track a lot. Unfortunately, though, driving down the corkscrew, there's a friendly little rain grate in the middle on the right side. I decided I should pound that lap after lap; it bit me in the ass – it bent my right rear A-arm. That didn't end well for the first race. The second race I decided to avoid the rain grate, and won that one," he says.
"In the third race, another stupid rookie mistake – I dropped a wheel coming out of [Turn] 4. In any car, you wouldn't notice, but in a formula car, it's quite a drop. I bottomed the right rear of the car out and, somehow, either my hand hit it or the ignition shorted out, so I coasted down toward Turn 5. Tried to bump start, nothing happened. I waited for the car to come to a complete halt, everyone went by me, then the car decided to refire. Weekends like that aren't great except for the things you learn from them."
It was only a hiccup in an otherwise fine season that included 10 wins in 14 races. For Whelden, it's hopefully a big step in a career that has had a bunch of starts and stops that began when he started racing karts at age 10. He hopes the next step is the Pro Mazda Championship or, if that doesn't work out, IMSA Lites, with his eyes on professional sports car racing.
"My dream, my hope, would be to become a professional driver in top sports car endurance racing," he says. "My dream would be to be competitive in the 24 Hours of Le Mans, 24 Hours of Daytona, 12 Hours of Sebring, Petit Le Mans. That's where I hope to have most of my career."
Whelden missed his shot at the MX-5 Cup scholarship provided to the winner of the Club Racer Shootout, though he did make it to the top five. He had his first Pro Mazda Championship experience at the Shell and Pennzoil Grand Prix of Houston, and hopes that leads to more. Whichever way his career takes him next, it seems he has a bright future ahead.