During the course of any given racing championship, there will be many champions. But only one can claim to be the first, and in the case of the Rocky Mountain/Central Division of the Teen Mazda Challenge, that person is Zac Munro.
Munro bookended the season with wins in the series within NASA Spec Miata races for drivers 13 to 22. The high school senior from Granby, Colo., also earned a spot as a finalist in the Mazda Club Racer Shootout for doing so. Although he didn't win the Shootout and the season in Playboy Mazda MX-5 Cup that goes with it – that honor went to the West Coast Mazda Teen Challenge champ Joey Bickers – the experience was a great one.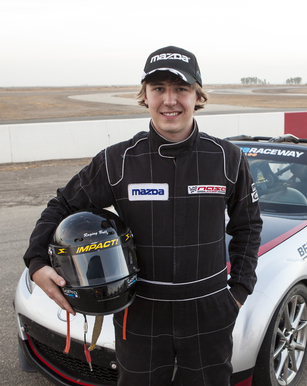 "I've learned so much [during the Shootout]. Just how important the marketing side of racing is…this is something that I never would have thought about when I was in karting."
It was in karting that Munro got his start. Well, actually it was at a drag race at a track where there also happened to be a kart track on site.
"It all started when my dad and I went to an NHRA National drag race," he explains. "We were sitting watching the drag races, and off in the distance we saw a go-kart track that's at the same venue," he explains. "My dad asked if I wanted to try some karting. We did some laps just for fun. Then we saw a couple of kids that were in a racing series. We found out they were members of the Colorado Junior Karting Club. We ended up buying a kart and giving it a shot, and I never came back from it."
Munro's choice in karting classes led to his choosing Spec Miata as a class when he went to cars. Coming from a kart that demanded keeping momentum in the corners, he saw that Spec Miata required a similar driving style. Of course, the Mazda Teen Challenge Series and the opportunity to make it to the Club Racer Shootout didn't hurt, either.
"I never thought I'd make it to the top five. To actually make it this close, it's blown my mind," he says.
Munro's dream is to be an F1 driver, although he realizes that that is a pie-in-the-sky goal. Much more achievable, he says, is the top levels of American sports car endurance racing.
When he's not at the track – Pueblo Motorsports Park and Pikes Peak International Raceway are among his favorites – Munro likes to take advantage of all that the outdoorsman's paradise of Colorado has to offer, such as snowboarding, hiking and hunting. And, of course, he still likes to get to the kart track to have a little fun and see old friends when he's not racing the Spec Miata.
As the youngest driver to make the final five of the Club Racer Shootout, Munro likely has a few more shots at making it. With his experience this year, he should be a force to deal with if he has another shot in front of the judges.