TJ Fischer is eyeing each rung of the Mazda Road to Indy ladder with one goal in mind: make it to the top.
"Racing in the Indy 500 – that's the place for me," says Fischer.
The first step on Fischer's personal ladder to Indianapolis Motor Speedway was the Worldspeed Formula Car Challenge Formula Mazda National Championship. The Formula Car Challenge is a set of four regional championships with categories for three spec cars – the Renesis-powered Pro Formula Mazda, the 13B rotary-powered Formula Mazda, and the MZR-powered FormulaSPEED2.0. It was Fischer's first stop in his transition from karts to cars.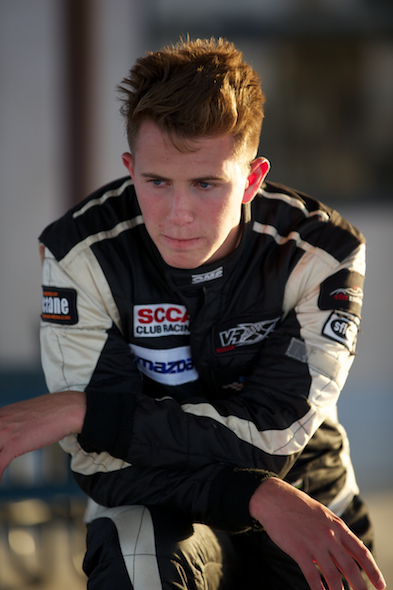 "I got out of karts and tested a Pro Mazda car," says the 2012 graduate of Vacaville (Calif.) High School. "I showed pretty good potential and pretty good talent naturally; we just didn't have the funding to do it. But the engineer, he was reviewing the data and he saw what I had. He told me and my dad that he wanted to set up a program for us. His idea was the Formula Mazda car. He's got a lot of experience with them; he worked with the Formula Russell series for a long time, so he's got a lot of knowledge of these cars. He feels it's a really good steppingstone to Pro Mazda. I learned a bunch with this car, so it was big."
Fischer has his plans in place for 2014 – he'll be racing in the Pro Mazda Championship Presented by Cooper Tires in partnership with his engineer Eric Purcell and also plans to compete in the Playboy Mazda MX-5 Cup. His plans could have been somewhat different, though, had we won the close battle of the finalists in the Mazda Club Racer Shootout. He was one of the five champions invited to Buttonwillow Raceway Park in November to give it his best. He missed out on that honor – and the MX-5 Cup Championship ride that goes with it – but it may have been a blessing in disguise for a guy who has his eyes clearly on an open-wheel prize.
In addition to the Formula Car Challenge, Fischer contested the Western Conference SCCA Majors races. It was in an SCCA Majors race at Circuit of the Americas that the team made a discovery that likely saved their season.
"We found out we were missing a lot of horsepower," he explains. "We put it on the dyno and found out that it was just a tired motor, down about 15hp or something ridiculous. That's in a spec series, so it was tough to compete. That was the turning point when we got that rebuilt."
Fischer won the SCCA Majors Western Conference title in Formula Mazda, but it was the Formula Car Challenge championship that really stoked him, and earned him his place in the Club Racer Shootout.
"The highlight moment had to be the national championship race," he says of the event that took place at Sonoma Raceway during the GoPro Grand Prix of Sonoma IndyCar Series weekend. "The best Formula Mazda racers in the country were there. I think it was pretty big for my engineer, too, because he hadn't won a championship with his driver yet. We weren't able to go to the Runoffs this year, but he got something pretty close. I was proud to be the driver that was able to accomplish that."
It wasn't just the Formula Car Challenge national championship, but the West Coast region as well. In fact, after finishing second in the first two rounds, he won every race but the last, where motor problems derailed a 12-race sweep. It wasn't just winning the series, it was utter domination.
"We learned a lot about car preparation this year, and there's a lot in that," he says of the keys to his success in 2013. "Another is natural ability. You can have a good car, but how much are you willing to push it to that absolute limit? The combination of understanding the car, understanding the data, car preparation and natural ability…it all plays a part. If you're able to put that all together correctly, stay consistent and compete for wins all the time, then you can have a season like we did."
If Fischer can do put all those factors together again in 2014, then his competitors in the Pro Mazda Championship have good reason to be worried.