It may seem silly to compare the N.A.S.A. US Air Force 25 Hours of Thunderhill with the Rolex 24 at Daytona. One is a club race held on a club-owned track in the middle of Northern California agricultural land while the other is a professional race with an illustrious history at one of America's most famous speedways. But the challenges of racing twice around the clock (plus one hour in the case of Thunderhill) remain the same. Endurance racing is endurance racing, says Joel Miller, who has experience at both.
Miller's ride at this weekend's 25 Hours of Thunderhill, the 10th annual event, is the No. 19 production-based RX-8 run by Robert Davis Racing. It's a different beast than the Grand-Am Rolex Sports Car Series GX-class Mazda6 SKYACTIV-D Clean Diesel that he drove to the Rookie of the Year title in 2013. The car may be easier to drive in many respects, but the challenges of Thunderhill can actually be tougher.
"There is such a wide variety of cars, such a large speed differential," he explains. "You can have anything from a full prototype vs. a Spec Miata in the E3 class. So the approaching rate is significantly increased. At the Rolex, you've got a DP catching a GT car, maybe a 20mph difference at the top end of things, maybe 190 vs. 170 or 165. At Thunderhill, you could have something maybe doing 100, and you've got a prototype coming up at you at a buck fifty.
"It's the variety of cars and the amount of cars. With the 25 Hour, there's something crazy like 80 cars or something like that. You're constantly passing someone from the word, 'go.' There's never a moment when you actually have a clean lap."
The tracks are rather different as well. Thunderhill Raceway in Willows, Calif., is owned by the San Francisco Region SCCA and is a twisty, 15-turn natural terrain road course, as opposed to Daytona's flat course on the inside of the famous tri-oval.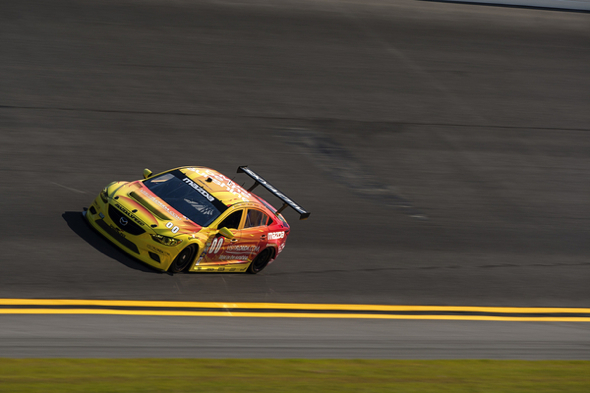 "At Daytona, you're flat out for 50 percent of the time," says Miller. "At Thunderhill, you've got the main straight, the back straight… then you've got the elevation change. Plus, Daytona has lights. Thunderhill is black. You're out in the middle of a field with no lights, and usually something happens to one of your own lights and you only have one left…and then it gets real dark," he laughs.
There is also the matter of driving time. Grand-Am (and now IMSA) limited the amount of time a driver could spend in the car. A couple of years ago at Thunderhill, Miller drove for five straight hours during the night, and 13 hours total while competing in two different cars. So preparation, no matter which endurance race, is key.
"How you treat your body in the two weeks leading up to it, in terms of hydration, is a big part of it, because when you're in the car, all you have is your little drink bottle," he says. "How you train your body to sleep is important as well. When you get out of the car, can you go to sleep until you get back in? I find that it works better if you treat when you get out of the car the way you would any other time. Get out of the car, shower, put regular clothes on and sleep. When you wake up, don't just throw your suit on and get back in the car – have something to eat, do whatever you need to do. Don't try to fall asleep in a lawn chair, then wake up and try to get back in the car, because you won't feel rested. Do it like you do at home and you'll feel much more rested, even though you have only slept for three hours."
The USAF 25 Hours of Thunderhill kicks off at 11 a.m. Pacific on Saturday, with the checkered flag falling at noon on Sunday. In addition to the RX-8 that Miller will share with Jeremy Barnes, Dennis Holloway and Lee Papageorge, Mazda is fielding a trio of production-based, European-spec Mazda6 SKYACTIV-D Clean Diesel racers – two for teams representing dealers and one for Mazda North American Operations employees. Ten teams are running Miatas in the E2 and E3 classes in addition to one E2-class RX-7.
The action of the 25 Hours of Thunderhill will be streamed live from the Mazda6s at www.MazdaUSA.com\ThunderHillLIVE.