Production-based racecars are a perfect place for a racer to get started, and many drivers never leave the arena of Touring cars, Spec Miata and the like. But for the driver seeking something fast but who still wants something that looks like a road car, Grand Touring may be the ideal destination.
The Sports Car Club of America's Grand Touring category has evolved over the years from heavily modified production cars to tubeframe, silhouette racers. The same progression happened in the professional Trans-Am series, and today's GT cars and Trans-Am cars are essentially the same. That's how Rob Warkocki describes his GT-3 third-generation RX-7.
"The cars, bang for the buck-wise, are probably the best horsepower-to-weight ratio that you can get for the sedan-type classes," he explains. "With the thoroughbred-type of chassis, handbuilt and engineered as opposed to a factory street-based car, the technology is quite advanced. These cars are basically baby Trans-Am cars and affordable enough for a guy like me."
Warkocki has been racing Mazdas since he started because of the rotary engine. "There was a hook there; something that was affordable enough for me to build, where I could get affordable horsepower and you're not relying on the machine shop – it's stuff you can do in your garage," he says. So he bought an RX-2 built off a production chassis. But as the class evolved and went more and more to purpose-built tubeframe cars, Warkocki says buying one of the new rocketships was out of his price range, so he decided to build one.
The third-generation RX-7 was brand new at the time, and that's what Warkocki decided to go with based on the recent introduction of the body style. The fact that it was good looking and good aerodynamically didn't hurt either, he notes.
He's now been racing the same car that he built – chassis, bodywork, engine, transmission rear end and all – for almost 20 years. In 2013, he claimed the SCCA GT-3 National Championship at the 50th Anniversary Runoffs at Road America with the TRO Manufacturing/Mazda Mazda RX-7. The fact that he won with a car that's nearly two decades old illustrates an advantage of the silhouette style of racing – obsolescence comes slowly.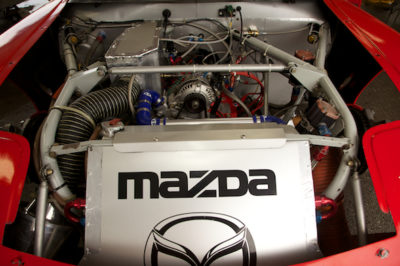 Warkocki uses a street-port 13B rotary in the car connected to a factory Mazda PBS gearbox and Winters quick-change rear end. He runs on 15-inch Hoosier slicks, either radials or bias-ply depending on the conditions. A fairly recent addition to the GT classes is wings and splitters, replacing the flat spoilers that provided some downforce but also greatly increased drag. Warkocki says those aero pieces have made a big difference.
"It's really a fun toy and great bang for the buck. At Road America, we dropped four seconds a lap just by putting the wings on. It's pretty amazing what aero can do," he says.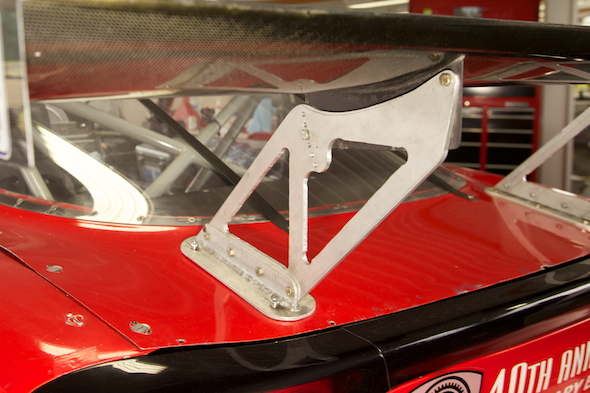 "Right off the bat we had to change our gearing, because you would run out of gearing at the end of the straightaway because your speed was so much quicker. We actually made four different gear changes just to get the gearing under control just so we wouldn't run out of RPMs. From the driver's seat, the grip that is added was unforeseen, so to speak; you just feel it. Where the car used to be on the edge of breaking loose, it's almost like the hand of God reaches down and pushes the car down even harder. You have more grip so you can keep going harder and deeper into a corner like never before."
Out of 17 starters, Warkocki's was one of seven RX-7s in the field, plus one Miata. Long after the RX-7 ceased production, it remains a popular choice among racers.