Andersen Promotions, which will operate all levels of the Mazda Road to Indy next year, unveiled the 2014 schedule of events for the three series comprising the ladder system – Indy Lights Presented by Cooper Tires, Pro Mazda Championship Presented by Cooper Tires and Cooper Tires USF2000 Championship Powered by Mazda. For the first time since the inception of the Mazda Road to Indy as the official development series of IndyCar in 2010, all races on next season's calendar will be run in support of the IndyCar Series.
Additional schedule highlights include doubleheader rounds for Indy Lights at all permanent road courses with a "sprint" race on Saturday of 40 minutes and a "feature" race on Sunday of 60 minutes just prior to the IndyCar Series main event. Pro Mazda will feature standing starts at all street circuits and USF2000 will once again host a tripleheader round.
All Indy Lights races will feature same-day coverage on the NBC Sports Network with international rights held by ESPN International. Pro Mazda and USF2000 will also be featured on the NBC Sports Network with a minimum of four highlight shows, which will also be broadcast on Motors TV in Europe.
The Mazda Road to Indy will open its 2014 season on the Streets of St. Petersburg, Fla., on March 29-30. Indy Lights will then head west two weeks later to the Streets of Long Beach, Calif., on April 13. On April 26-27, the three series will reunite at Barber Motorsports Park in Birmingham, Ala., for doubleheader rounds on the permanent road course.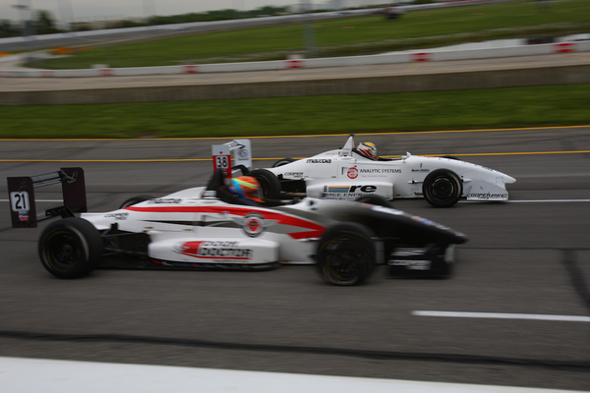 The month of May will be centered around the Indianapolis 500. Two rounds each of Indy Lights, Pro Mazda and USF2000 will take place in support of the inaugural road course race at the Indianapolis Motor Speedway, the Grand Prix of Indianapolis, on May 9-10. In keeping with tradition, Indy Lights will contest the Freedom 100 race on May 23 – Carburetion Day at the Speedway – while Pro Mazda and USF2000 will compete under the lights at the "Night Before the 500" on May 24 at nearby Lucas Oil Raceway at Indianapolis.
All three series will have their season finales at Sonoma Raceway in Sonoma, Calif., on Aug. 23-24.
In addition to the on-track activity, the Mazda Road to Indy Summit program will take place during the St. Petersburg and Indianapolis weekends. Providing the off-track tools drivers need in their professional motorsports careers, this year's curriculum included courses in conducting interviews, the business of motorsports, performance thinking, fitness and wellness, driver brand building, social media, the intricacies of oval racing, working with the media, maximizing simulators and providing return on investment.
The Mazda Road to Indy provides a scholarship package at each level for drivers to advance to the next step on the ladder. Recently crowned Indy Lights champion Sage Karam, 18, will receive up to $1 million in prizes and awards to aid his ascent to the IndyCar Series. Karam was the 2010 USF2000 champion and finished third in Pro Mazda last year.
Matthew Brabham, 19, secured over $636,000 as the 2013 Pro Mazda champion and will advance to Indy Lights next season with Andretti Autosport. Brabham, the 2012 USF2000 champion, is the first driver to advance through all levels of the Mazda Road to Indy in succession.
After contesting a partial season last year, Scott Hargrove, 18, secured this year's USF2000 title and scholarship package of over $383,000 to advance to Pro Mazda in 2014.
INDY LIGHTS PRESENTED BY COOPER TIRES 2014 SCHEDULE
Round. Date; Track; Venue
1. March 30; Streets of St. Petersburg; 1.8-mile street circuit
2. April 13; Streets of Long Beach; 1.968-mile street circuit
3-4. April 26-27; Barber Motorsports Park; 2.38-mile road course
5-6. May 9-10; Indianapolis Motor Speedway; 2.434-mile road course
7. May 23; Indianapolis Motor Speedway; 2.5-mile oval
8. July 6; Pocono Raceway; 2.5-mile oval
9. July 20; Streets of Toronto; 1.75-mile street circuit
10-11. Aug. 2-3; Mid-Ohio Sports Car Course; 2.258-mile road course
12. Aug. 17; The Milwaukee Mile; 1-mile oval
13-14. Aug. 23-24; Sonoma Raceway; 2.385-mile road course
PRO MAZDA CHAMPIONSHIP PRESENTED BY COOPER TIRES 2014 SCHEDULE
Round. Date; Track; Venue
1-2. March 29-30; Streets of St. Petersburg; 1.8-mile street circuit
3-4. April 26-27; Barber Motorsports Park; 2.38-mile road course
5-6. May 9-10; Indianapolis Motor Speedway; 2.434-mile road course
7. May 24; Lucas Oil Raceway; 0.686-mile oval
8-9. June 28-29; Streets of Houston; 1.634-mile street circuit
10-11. Aug. 2-3; Mid-Ohio Sports Car Course; 2.258-mile road course
12. Aug. 16; The Milwaukee Mile; 1-mile oval
13-14. Aug. 23-24; Sonoma Raceway; 2.385-mile road course
Cooper Tires Winterfest Championship (four races)
Feb. 21-22; NOLA Motorsports Park; 2.75-mile road course
Feb. 25-26 Barber Motorsports Park; 2.38-mile road course
COOPER TIRES USF2000 CHAMPIONSHIP POWERED BY MAZDA 2104 SCHEDULE
Round. Date; Track; Venue
1-2. March 29-30; Streets of St. Petersburg; 1.8-mile street circuit
3-4. April 26-27; Barber Motorsports Park; 2.38-mile road course
5-6. May 9-10; Indianapolis Motor Speedway; 2.434-mile road course
7. May 24; Lucas Oil Raceway; 0.686-mile oval
8-9. July 19-20; Streets of Toronto; 1.75-mile street circuit
10-11-12. Aug. 2-3; Mid-Ohio Sports Car Course; 2.258-mile road course
13-14. Aug. 23-24; Sonoma Raceway; 2.385-mile road course
Cooper Tires Winterfest Championship (six races)
Feb. 21-22; NOLA Motorsports Park; 2.75-mile road course
Feb. 25-26; Barber Motorsports Park; 2.38-mile road course