Mazda knows its rotaries. Years of racing various versions showed the company and its racing teams how to make them powerful and darn near bulletproof. It's the sort of proven, comfortable technology that enabled SpeedSource to have so much success with its RX-8s in the Grand-Am Rolex Sports Car Series in the GT category, including winning the Rolex 24 at Daytona.
So when Mazda and SpeedSource switched to the Mazda6 SKYACTIV-D Clean Diesel for competition in the new GX category, they had no idea what may lie ahead. While Audi and Peugeot have had good success racing with diesel engines in endurance sports car racing, taking a street diesel engine and making it into a competitive racing powerplant is another matter entirely.
"It's a huge undertaking," says David Haskell, team engineer and strategist for the No. 70 Castrol Mazda6 SKYACTIV-D Clean Diesel. "We started over a year ago and we have a bunch of support people at the shop. Marcus Shen is one, Zach [Lagrone], one of our engineers…. We've worked with a lot of vendors, we've had Mazda help us a lot and we've had to do a lot on our own. We did a lot of on-track, in-public testing. Coming from a rotary gasoline engine to this, it's totally different. It's a completely different way of thinking."
There are advantages to diesel engines, of course – primarily fuel economy. Haskell says the SKYACTIV-D Clean Diesel engine gets about 25 percent better fuel economy compared to a gasoline engine of the same size. They also make a lot of torque, but not a lot of horsepower, and they don't rev as high.
Obviously, more torque and power is needed in a racing application than in a street application. To get that, though, doesn't require as much as one might expect.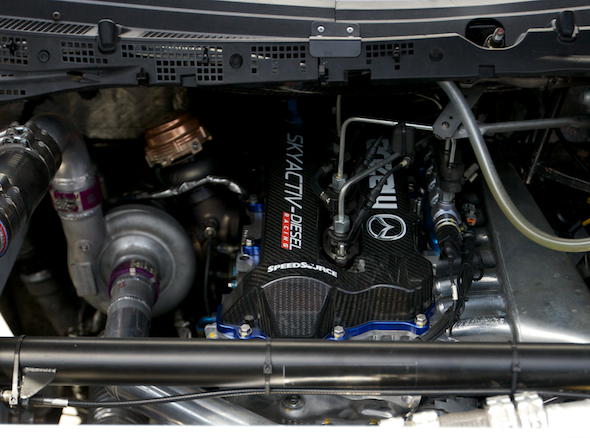 "A lot of the components are stock," explains Haskell. "The whole valvetrain is completely stock. The stock engine is made to rev to 5200rpm; we rev it to a max of 5000 and typically we shift around 4800, so all of the components are completely stock. And they're absolutely bulletproof. We do change valve springs because we run more boost. The boost will open up the intake valve when you get to a certain point, so we have to increase that. It's not because of a lack of reliability; it just didn't have enough seat pressure.
"The block is stock, the cylinder head is stock – it's all production stuff. A lot of the bearings inside the engine are completely stock."
To get the extra power and torque needed for racing, the first step is to move more air through the engine with bigger turbochargers. That's the first move in getting 400hp and 450 ft.-lbs. of torque out of 2.2 liters. "That's a lot. Even Mazda say they can't believe what we're doing. I can't explain what that means from a little diesel engine…it's crazy," Haskell says.
But when that much air is pumped into the engine to make the explosions more powerful, some of the components need to be beefed up. Some of the pieces that are more than sturdy enough for a 170hp engine won't cut it under this kind of pressure.
"In a diesel engine, you have higher cylinder pressures than a regular gasoline engine," Haskell explains. "Because of that, wrist pins, connecting rods, pistons, crankshaft…all of that is under more pressure. If we double the output of the engine, we double the load on those components. It's pretty linear. So we just have to upgrade those components. They're the same size, a lot of the time close to the same material, just stronger."
Still, even with those beefier pieces, the engine is still 51 percent stock, a pretty impressive feat considering the Mazda6's nine wins and Mazda's Manufacturers Championship in its first-year program.