Mazda Motorsports has a blockbuster weekend coming up on the streets of Texas's largest city during the Shell Pennzoil Grand Prix of Houston. The SCCA Pro Racing Pirelli World Challenge Championships wrap up their season, two Mazda-powered steps on the Mazda Road to Indy ladder have their finales and the Playboy Mazda MX-5 Cup runs as well.
The SCCA Pro Racing Pirelli World Challenge Championships will crown their champions, and one of them will hopefully be Ernie Francis Jr. in Touring Car B. Francis Jr. has seven wins in 2013 driving a Mazda2, and has the opportunity to earn a couple more in the two-race event. If he finishes ahead of Robbie Davis in both, he'll be the champ.
Winning both will be a real challenge, though, as the two races are only separated by a 15-minute break to change tires. Any problems on the concrete-lined temporary circuit in the first race could prove very costly.
Michael Cooper has the opportunity to score more wins than any other Touring Car class competitor in Pirelli World Challenge if he takes at least one victory in Houston. Cooper is the defending Touring Car champ and had a four-event win streak in the double-race weekends at Mid-Ohio Sports Car Course and Sonoma Raceway. He sits fifth in the standings without a shot at the title due to missing the first three races, the triple at Circuit of the Americas.
Two steps on the Mazda Road to Indy ladder, the Cooper Tires USF2000 Championship Powered by Mazda and the Pro Mazda Championship Presented by Cooper Tires, end their seasons at Houston. Scott Hargrove will try to clinch the F2000 title, while Matthew Brabham has already claimed the Pro Mazda crown.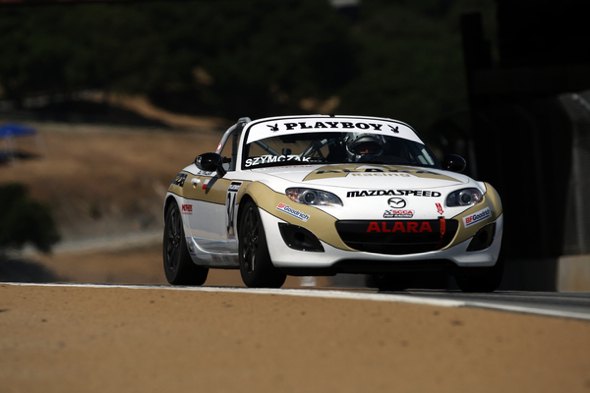 The SCCA Pro Racing Playboy Mazda MX-5 Cup has its next-to-last weekend in Houston. Christian Szymczak leads Elliot Skeer in a close points battle, 528 to 516. John Dean II is another 30 points back of Skeer. Kenton Koch, thanks to winning all but one race, has a commanding lead in the Skip Barber MAZDASPEED Pro Challenge. The MX-5 Cup will finish its season with a doubleheader during the Petit Le Mans weekend at Road Atlanta.
In addition, the Firestone Indy Lights, the final step on the Mazda Road to Indy ladder, will run its penultimate race of the season. The points race there is incredibly tight, with only 11 points separating the top four of Sage Karam, Carlos Munoz, Gabby Chaves and Jack Hawksworth.