The new V2 hub has key updates that are improved over the original design.  As seen on the cross-sectional drawing below, the colored sections indicate the updates to the V2 hub design.  This is almost an all-new design from the original version.
Starting with the spindle backing plate, we have integrated an O-ring groove into the plate to prevent water and dirt intrusion from the back side of the hub.
The rear seal has been updated to further prevent contaminants from entering the hub to prolong the service interval duration/life of the hub.
The front cap is now sealed with an O-ring.
To ease installation and setup for racers and teams, two spacers have been added to the design: 1) the middle bearing spacer controls the bearing preload clearance and ensures the correct tension for heat expansion; and 2), the snout spacer provides the additional footprint for the outer bearing to rest on for the proper support under load.
The OEM lock nut (torqued to OEM spec and properly staked) holds everything in place for optimal performance.
MSI-coated wheel studs  

V2 Roller Bearing Hubs: In partnership with Flyin' Miata, we hope you benefit from the following two videos featuring V2:
Mazda Motorsports Upgraded NA/NB Front Hubs Overview
Mazda Motorsports Competition NA/NB Miata Hub Installation Process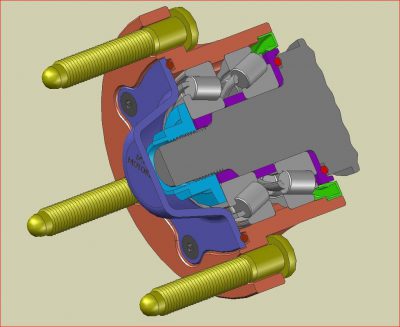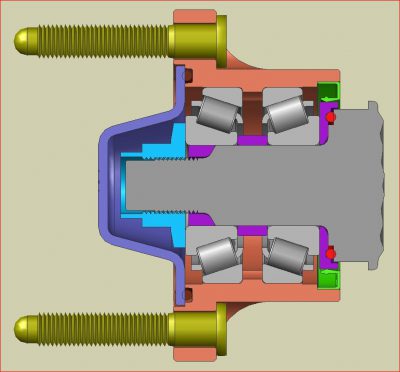 According to Josh Smith, technical lead for Mazda Motorsports, "These new, V2.0 hubs were tested in 2020 and 2021 at multiple tracks that held both sprint and endurance races, under various conditions (hot days and even snowy conditions), on multiple cars, and with multiple drivers. No matter the scenario, these V2 hubs held up better than any previously tested, offering greater durability and longevity. Another benefit: These hubs can be rebuilt completely by the end user."
"Despite the advantages," continued Smith, "there are tradeoffs for Spec Miata racers to consider. The hub is heavier than an OEM by a little over one pound and does have more bearing contact, so one could argue that it is a performance disadvantage due to the additional drag. We do feel this disadvantage is so minute that it would be lost in the noise and is not a main consideration."
This hub was made for those who don't feel the lifespan on other hubs is good enough or long enough, that all SM racers should consider.
Part No.: 0000-04-5HUB-ST
Price: $435.00
Replacement seal/oring kit V2 – 0000-04-5HUB-V2
Price – $34.00
Replacement bearing (two per hub) – 0000-04-5HUB-SK
Price – $53.00
In focus: Counterfeit bearing replacements + upgrades to the roller bearing Miata hubs.
Mazda Motorsports now offers an upgrade kit to the roller bearing hubs (V1) used in Spec Miata and other race classes as well as a new version (V2) roller bearing hub that comes with the upgrades, improving durability and ensuring they are rebuildable by the end-user/racer. The installation video for V2 is below.

Tapered roller bearing hubs were used on the V1 hub; this type of bearing provides more contact surface than the ball bearings used on the OEM hub, thereby increasing its load capability and durability. To improve the hub, an upgrade kit was created.
Upgrade Kit (V1): While V1 made significant strides in offering a more durable hub, Mazda Motorsports created an upgrade kit (two per car needed) that resulted in the V2 hub package. For features, functions, and benefits of the V2 hub, including the upgrades, see below.
Part No.: 0000-04-5HUB-UP (two per car needed)
Price: $57.95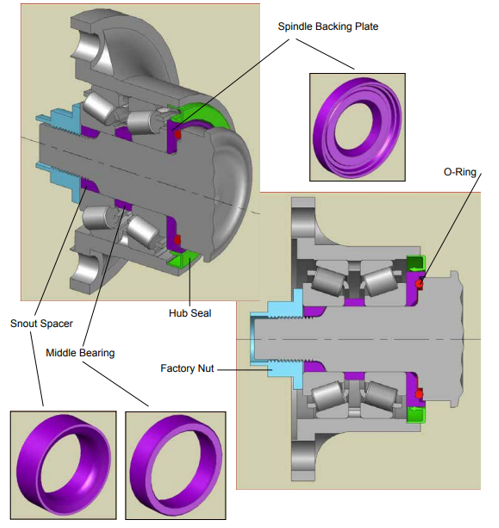 Replacement Bearing for the Counterfeits: Some who have the V1 hubs, have counterfeit bearings. Today (12.8.21), Mazda Motorsports will email those who bought V1 bearings from Mazda Motorsports to help them identify counterfeits, and to provide complimentary bearings to those who received them direct from Mazda Motorsports.  Due to other sources selling counterfeit bearings, Mazda Motorsports is not able to replace counterfeit bearings that did not buy directly from Mazda Motorsports.