Mazda Motorsports and JTEKT Torsen North America Inc. are pleased to announce the introduction of a Torsen® Type-2 differential for Mazda MX-5 NC applications, including the Spec MX-5 race car.  Building on the performance legacy of Torsen and the Type-B previously used by the Spec Miata race series for decades, the new model takes the successful performance characteristics of the NA / NB Torsen and extends that into a product specifically made for the NC MX-5 application.
Part # 0000-02-5564
Price: $1260 (Spec MX-5 Challenge series racers receive a 25% discount through July 31; please call 800.435.2508 to order)
The NC MX-5 Torsen differential will be sold exclusively through Mazda Motorsports.
Overview
This new product, designed and manufactured in Rochester, NY, features gearing made from 4320 alloy steel and uses a nodular iron casing.  The differential has been durability tested on the track and on a dynamometer for consistent torque biasing, leading to predictable performance on the track.
The Torsen differential for the NC MX-5 application uses patented Equvex™ gearing for better load sharing across the internal friction surfaces, which give it excellent durability over vehicle life without relying on clutches that can wear out.  This results in a linear, progressive transfer of torque across the differential in turns, providing confidence so the driver can always predict how the car will react.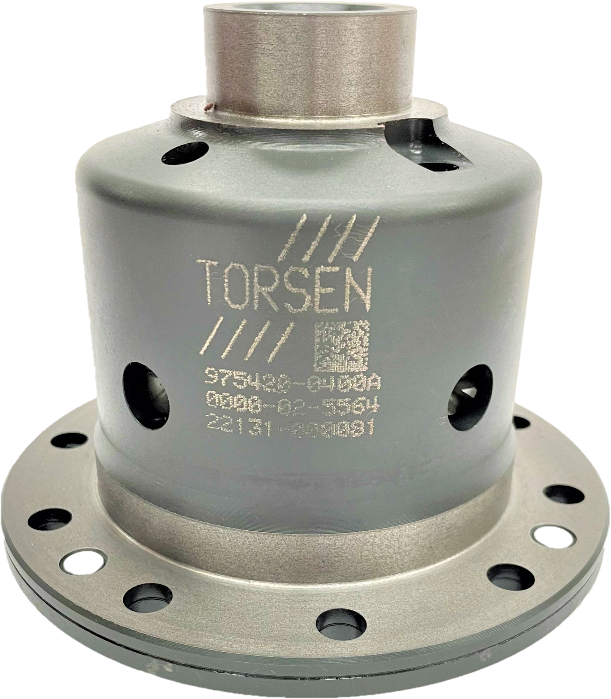 Performance Characteristics
Torque biasing characteristics are similar to the previous Type-B for NB Miata race cars, with a torque bias ratio (TBR) of 2.7:1 in a drive (on-throttle) mode.  Coast-mode TBR is kept lower to allow better turn-in at corner entry.  This has proven to work well for race cars of this type.
This Type-B was specifically designed without any breakaway preload, also to give a cleaner and more direct turn-in feel.  Mass was kept as low as practical without giving up strength, weighing in at just over 13 pounds, all while being capable of handling up to 5500 Nm of torque in repeated impact or shock loads.
| | |
| --- | --- |
| Torque Bias Ratio (Drive mode) | 2.7:1 |
| Torque Bias Ratio (Coast mode) | 2.2:1 |
| Weight | 13.125 pounds |
| Breakaway /Preload | None |
| Rated torque capacity (based on 250 cycles impact loading) | 5,500 Nm |
About Torsen
Torsen differentials have been a staple of high performance and racing cars for four decades, with a rich history in many diverse types of racing.  This includes not only road racing like Spec Miata, but also at Indy, in WRC rallying, on circle tracks, in off road racing series such SCORE and Baja, and have contributed to multiple SCCA championships.
Torsen differentials are also used in OEM production by many of the world's respected automakers such as Audi, Ford, & Toyota, providing a lifetime of performance for some of the top performance production cars on the market today.
JTEKT Torsen® North America is proudly operated in Rochester, NY.  JTEKT Torsen is a subsidiary of JTEKT North America Corporation.  With more than 5000 associates and 23 facilities, including 12 manufacturing sites, 3 technical centers and 5 distribution centers, JTEKT North America manufacturers a broad range of products under three additional solid brands: JTEKT Automotive Systems, Koyo Bearings and Toyoda Machine Tools.