One of the top and most versatile racers in the Sports Car Club of America (SCCA), Michael Borden returns to Spec MX-5 Challenge Series presented by Toyo Tires in 2022 – both as a driver (and perhaps odds on favorite to win the overall championship), and as Mazda's selection to coach its club racing factory team drivers.
While Michael has a day job – not in racing – his efforts to not only improve his own race craft, but that of others, is reaching – and impressing – many in the racing community; among them, Mazda.
"We are proud and fortunate to have Michael part of the Mazda family," commented David Cook, Mazda Motorsports' business development manager responsible for Mazda's club racing program. "It doesn't hurt that Michael continues to bring more hardware home while piloting a Mazda, Cook continued. "But the main reason is all the other racers and teams that Michael positively effects – supports. Whether it's driving, coaching others, or even crewing on his car or others, Michael is always contributing. Perhaps even more than that, what makes Michael so special is his passion, class and integrity he brings while doing it."
Borden's passion for sports car racing and the NC (2006-2015) Mazda MX-5 is something he's been eager to share with others, volunteering as a novice instructor at autocross events and an instructor at high-performance driving events across the Milwaukee Region. All this led to a job as an instructor at Road America and, now in 2022, a position as the Mazda Club Racing Factory Team Coach in the Spec MX-5 Challenge Series.
"I am looking forward to coaching and mentoring the 2021 Spec MX-5 Shootout winners Westin Workman and Nate Cicero, driving under the Advanced Autosports tent," commented Borden.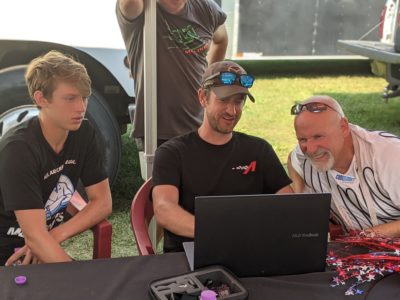 "Our team is eager to help them capitalize on their impressive karting experience and transfer it to the Spec MX-5 platform," continued Borden. "I've always placed a large focus on the mental side of driving and will continue to emphasize that strongly with those I coach. Other areas of emphasis include fitness, building a good foundation for advanced car control techniques, learning how to communicate what the car is or isn't doing, and analyzing both video and data."
Borden considers the racetrack his second home. If he's not racing under the Advanced Autosports tent, you can still find him there coaching or crewing. "The motorsports community has given me so much; one of the best ways to give back has been my partnership with Lemons of Love, a charity that shares love with those impacted by cancer through personalized care packages, free programs, and ongoing support."
Just some of Michael's accomplishments:
2021 SCCA Runoffs podiums finisher in his NC MX-5 in T4
Multiple podiums and wins in Spec Miata
Multiple championships at Road America's Winter Autocross Series
Rookie of the Year in the Milwaukee Region SCCA for Autocross and Road Racing
If you are interested in private coaching, you can reach Michael Borden via email at michaelbordenracing@gmail.com.
Check back throughout the Spec MX-5 Challenge Series season for more updates on both SpecMX-5.com and MazdaMotorsports.com.