Idemitsu Mazda MX-5 Cup increases ND2 and Rookie of the Year championship payouts and adds tow fund
IRVINE, Calif. (October 28, 2019) –The 2020 Idemitsu Mazda MX-5 Cup presented by BFGoodrich® season is about to get a little more interesting with half a million dollars in prizes on the line.
The ND2 season champion will continue to receive a $200,000 career advancement scholarship which will enable them to compete in a Mazda3 TCR during the 2021 IMSA Michelin Pilot Challenge. Bryan Ortiz, the 2019 ND2 champion was recently confirmed as the first Mazda3 TCR driver. Second through fifth in the championship will now receive an increase in season ending championship prizes.
The Rookie of the Year award has been revised for 2020 to help not only the top rookie in the series, but every rookie in the series. The top Rookie of the Year will continue to earn $75,000 to be applied to the 2021 Mazda MX-5 Cup championship, while prizes will be awarded down to the fifth rookie position.
Championship prizes in the ND1 championship will be paid to third place, with the winner receiving $35,000 to be applied to the ND2 championship in 2021.
The series will now also provide a transportation fund of $750 per car to support teams during the season-ending west coast events in Portland, Oregon and Monterey, California. Battery Tender will also continue to support the Battery Tender Hard Charger Award, which pays $1000 to the driver and $1000 to the crew chief of the car that improves the most position in each race.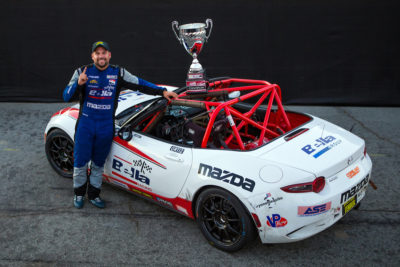 "We are proud to continue our investment in the Battery Tender Mazda MX-5 Cup," said Masahiro Moro, Chairman and CEO of Mazda North American Operations. "These racers are the true embodiment of the Challenger Spirit that we all strive for at Mazda, and the feedback that we receive from our dealers, clients and employees about the series is tremendous. The close and exciting racing is not only a testament to the skill of the drivers, but to the Mazda engineers who have developed the most popular sports car in the world."
2020 Battery Tender Mazda MX-5 Cup presented by BFGoodrich Championship Prizes
ND2 Championship
Champion                               $200,000 Career Advancement Scholarship
Second place                         $60,000
Third place                            $25,000
Fourth place                          $13,500
Fifth place                              $10,000
Rookie Of The Year
Champion                               $75,000 to be applied to 2021 Mazda MX-5 Cup
Second place                         $25,000
Third place                            $12,000
Fourth place                          $8,000
Fifth place                              $5,000
ND1 Championship
Champion                               $35,000 to be applied to 2021 Mazda MX-5 Cup
Second place                         $25,000
Third place                            $10,000