Mazda drivers take wins in GT-3, F Production, Super Touring Lite and both Prototype classes, among others
The 56th Running of the SCCA National Championship Runoffs has concluded at VIRginia International Raceway on Oct. 13, with 10 Mazda drivers earning victories. In addition, 18 more drivers of Mazda or Mazda-powered race cars stood on the podium, as Mazdas constituted a significant portion of the entries.
Mazda racers also enjoyed a banquet earlier in the week, plus hospitality with food and swag, adjacent to the Mazda paddock. All week long, Mazda Motorsports was offering parts and technical support as well as showing off its Spec MX-5 prototype.
Mazda Power Wins in Prototype 1
Todd Slusher, driving the No. 62 Hempsun Farms Elan DP02 Mazda, immediately grabbed the Prototype 1 lead with teammate Chip Romer in tow. For the rest of the field, that was the last they saw of Slusher and Romer as the duo went on for a one-two finish
"I just tried to focus on driving the track," Slusher said after the race. "I had one moment when the backend came out on me a little bit right before the Esses and I got a little fishtail going in the dirt. That was toward three-quarters [through] the race, and that's when I knew that the tires where going away a little bit."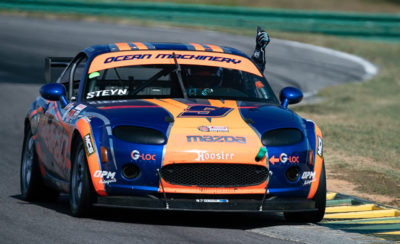 Steyn Spins and Wins in STL
While Danny Steyn spun during the race, he still led every lap of his Runoffs race to win his second consecutive Super Touring Lite national title, and a 2019 Super Sweep. This is the second year in a row in which Steyn led every lap in the Nelson/OPM/G-Loc Brakes Mazda MX-5 on the way to the win.
"When you're managing the gap, you're not focusing and your brain goes in different directions," said Steyn. "I went into Oak Tree a little hot and it got away from me, the rear end stepped out and I parked the car."
Steyn was able to make it back on track without losing the lead, aided in that effort by the battle building for second place. Chris Haldeman, in an NB Miata, won the contest for the silver medal.
Dernehl Wins Wild GT-3 Race
Jeff Dernehl sped past and outlasted the GT-3 field on Friday at VIR to claim a first hard-fought victory at the Runoffs. Stacy Wilson crossed the finish line in third in his Hoosier/Mazda/Wlson Racing Mazda RX-7 under a full-course caution.
The race opened with nine-time SCCA National Champion Mike Lewis battling Tony Ave, a Runoffs winner and multi-time Trans Am Champion in his own right, with Dernehl giving chase. Dernehl's multi-colored Roswell Outback Auto/Hoosier/RRE Mazda RX-7 moved around Ave on lap three under braking into Turn 2, then chased Lewis and his Goodyear Mazda RX-7 for an additional three laps before moving past him and into the lead down the front straight on lap six.
Ave, after falling back to fourth, which cooled his tires and motor, made another charge and moved past Dernehl and into the lead on lap nine. On the same lap, one challenger was eliminated when Lewis pulled off course with a stuck throttle.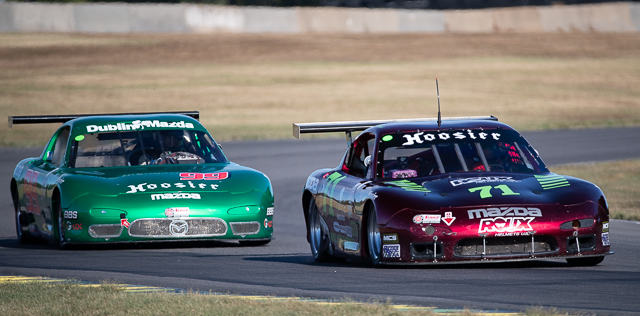 On lap 10, Dernehl spun carrying too much speed into the Oak Tree curve. That elevated Joe Kristensen to second behind Ave, with Dernehl recovering to give chase. But after crossing the stripe to begin lap 11, Ave pulled off on the right side with a blown motor. Kristensen cleared a stationary Ave by about 50 feet before his motor let go in spectacular fashion, leaving a trail of oil into the entry of Turn 1 as his day ended early.
This unexpected action moved Dernehl back into the lead and also initiated a full course caution in order to clean up Kristensen's oil, effectively ending the race. 
Dernehl's first Runoffs win also clinched the season-long GT-3 Challenge presented by MPI title, a series supported by Mazda, Max Papis Innovations, Penske Racing Shocks, AiM Sports and Hoosier Racing Tire. 
"This feels absolutely incredible," Dernehl said. "I've dreamed of coming here to win this race. I've finished second a couple of times in absolutely heartbreaking fashion. There was always a little something that wasn't right. This year, I didn't spend a lot of time at the regular races. I really poured my heart and soul into developing the car and getting it faster. That paid off. The engine was an absolute rocket ship, the suspension has always been good, and it did the job." 
Barkau Victorious in Last Lap FE2 Battle
In a wild race with an equally wild finish, Rhett Barkau drove the Barkau Automotive/JH Barkau & Sons SCCA FE2 Mazda to the Formula Enterprises 2 Runoffs win.
Barkau took an early lead and held a gap until lapped traffic bunched up the leaders and created a heated battle with racing so close that it resulted in contact.
In the traffic, Liam Snyder's Snyder Brothers Racing machine took a bump from Paul Schneider's Comprent Motorsports/Syvel Images FE2, but was still able to grab the lead by passing Barkau in South Bend, one of the fastest corners on the track. Before Barkau could mount a response, the battle was halted by a full course caution.
The race restarted with four laps to go, and Snyder held off a charge from Barkau and pulled out a slight lead. Snyder wouldn't hold on for the win, but the race did come down to the final few corners of the last lap.
"I was behind him and I saw he was getting slick through a lot of the corners, so I knew I had to just drive a safe race and wait for his one mess up where I could take advantage of him – and that's what happened," said Barkau of his race with Snyder. "I drafted him down the back straight and went side-by-side through Roller Coaster and then I dived inside in [Turn] 16, and at Hog Pen, I pulled out in front."
Although the race came down to that final turn, the mistake that cost Snyder the win happened entering VIR's famous Oak Tree. "There was a whole lot of sun in Oak Tree, I missed my apex and dropped one wheel off and had a horrible straightaway," said Snyder.
Libecco Takes FE by a Nose
Mark Snyder and James Libecco put an exclamation point on the Formula Enterprise finale with Libecco literally winning by a nose over Snyder. Libecco sealed up his maiden SCCA Runoffs title in style with a photo finish, claiming the checkered by the closest margin of victory in SCCA Runoffs history – 0.000sec.
"I'm elated and a little bit heartbroken at the same time knowing how it all came down in the end, but I couldn't have predicted a better finish to our season," Libecco said. "It was really good, clean racing, and that's what it's come down to all season. Being able to race side-by-side with Mark, two inches apart from each other, on the ragged edge of braking, and come out clean every time. There's not a lot of racers out there that will do that. This is an up-and-comer who has it."
Following a four-lap shootout after an extended caution period, Snyder lost the nose cap, mirrors, wing and all the surrounding fiberglass on his Snyder Brothers Racing FE car after making incidental contact on the last lap with frontrunner Charles Russell Turner's Southeast Spec Racer/PCS FE at the Oak Tree turn. The incident sent Snyder airborne and Turner spinning, forcing Turner to retire the race after taking the lead on the restart. 
As Snyder nursed a damaged front end, Libecco chased down the defending champion, sliding his AlliedDermatology/AllianceAutosport race car to the inside through Hog Pen. The pair crossed the finish line simultaneously, but it was Libecco's fully intact nose that crossed the stripe first. Snyder finished second, but was later penalized one position for the contact, placing him third on the podium behind Ray Mason's Alliance Autosport FE.
Buras Takes First SM Championship
After 21-years racing in SCCA events, Todd Buras beat out 57 other Spec Miata drivers to take his first career SCCA Runoffs title. Competing in the largest Runoffs field of the weekend, Buras led nearly every lap around the technical 3.27-mile, 18-turn VIR circuit before claiming the checkered flag just 0.185sec ahead of his East Street Racing teammate Preston Pardus. Michael Ross filled out the podium in third place. 
By no means did the win come easy for Buras. For the entire 15-laps, Buras had a competitor glued to his bumper trying to utilize the draft to overtake for the lead. The tried-and-true towing strategy only worked once when a three-long train of Spec Miatas, lined nose-to-tail and led by Ross, worked in perfect unison down the front straight to edge out Buras around the outside of Turn 1. Buras dropped back to fourth but quickly worked his way back to first in two laps, officially beating all challengers gunning for his Hoosier/East Street/KKD Mazda Miata. 
 "Yeah!" screamed Buras while pumping his fists in the air after the race. "I am way beyond happy! Twenty-one years of racing SCCA and we finally did it! My car number is 56, and this is the 56th year of the Runoffs, it was just meant to be. I went down on a bike yesterday and broke two ribs, so each lap was agonizing – but so worth it."
Mazda Powers Tray Ayres to P2 victory
Tray Ayres left nothing on the track as he sealed up his 2019 season with his second SCCA Runoffs championship title, his first in Prototype 2. And to top it off, Ayres made the 15-lap race look effortless his Ayres Racing Van Diemen RF00 Mazda.
"I am feeling pretty good after winning that race," Ayres admitted. "There was some tight racing out there today and that doesn't happen very often in this class. That was really fun. The track, for me, was a bit cooler than we expected for the set up, so the car was a bit of a handful, especially early on. Being new to this class, we had a lot of long nights with a lot of work to get us here. Our goal was to get on the podium this weekend, and I am happy to be at the top."
Prill and Campbell Battle for F Prod Victory
Six official lead changes at the line and perhaps twice that number on the track set the stage for a 0.096sec difference at the finish line between race winner Eric Prill and runner-up Charlie Campbell in F Production.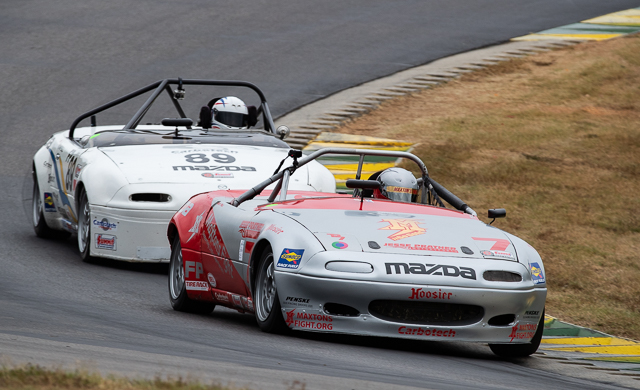 Seemingly each and every lap of the 12 green-flag laps, Prill and Campbell swapped positions at the end of the back stretch, down the front straight as well as into Turn 2, with Prill establishing on one occasion that he had the ability to draft by Campbell before the finish line, if needed.
Those lead changes left Campbell at the front entering the final lap. He held that position through Oak Tree before Prill reassumed the lead at end of the long back straight. That left Campbell with essentially five corners and part of the front straight to get back in front – and he nearly did, pulling alongside, but not in front of, Prill at the checkered flag.
"Coming down the hill, I was thinking that I just needed to get a good run coming out of Hog Pen," Prill said of the last corners of the race. "The rear stepped out just a little bit. The last couple of laps, the rear was stepping out in a few places just a little bit. I just had to breathe the throttle a little bit and it caused him to check up a little bit, too."
With his Runoffs win, Prill became the third SCCA member in the club's 75-year history to win a Runoffs title and an autocross SCCA National Championship in the same season, joining Bob Endicott and Jeff Altenburg.
Mazda Winners at the 56th running of the SCCA National Championship Runoffs
VIRginia International Raceway, Alton, Va.
Oct. 8-13, 2019
GT-3: Jeff Dernehl; Roswell, Ga.; Mazda RX-7
E Production: Eric Prill; Topeka, Kan.; Mazda Miata
Prototype 1: Todd Slusher; Las Vegas, Nev.; Elan DP02 Mazda
Prototype 2: Tray Ayres; Gainesville, Ga.; Van Diemen RF00 Mazda
*Formula Atlantic: Flinn Lazier; Vail, Colo.; Swift 016a Mazda
Formula Enterprises 2: Rhett Barkau; Freeport, Ill.; SCCA Mazda FE2
Formula Enterprises: James Libecco; Solon, Ohio; SCCA Mazda FE
Formula Mazda: Anthony Seaber; Hillsborough, NC; Star Formula Mazda
Super Touring Lite: Danny Steyn; Fort Lauderdale, Fla.; Mazda MX-5
Spec Miata: Todd Buras; Melbourne, Fla.; Mazda Miata
*Race winner; not official SCCA National Champion due to low participation
Other Mazda Podium Finishers
GT-3, third: Stacy Wilson; Englewood, Tenn.; Mazda RX-7
EP, second: John Hainsworth; Marlton, N.J.; Mazda RX-7
FP, second: Charlie Campbell; Corry, Penn.; Mazda Miata
FP, third: Ken Kannard; Sebring, Fla.; Mazda Miata
P1, second: Chip Romer; Lake Havasu City, Ariz.; Elan DP02 Mazda
FA, second: Dario Cangialosi; Chester, N.J.; Swift 016 Mazda
FA, third: Spencer Brockman; Westport, Conn.; Swift 014 Mazda
FE2, second: Liam Snyder; Southlake, Texas; SCCA Mazda FE2
FE2, third: Scott Rettich; Columbus, Ohio; SCCA Mazda FE2
FE, second: Ray Mason; Blacklick, Ohio; SCCA Mazda FE
FE, third: Mark Snyder; Southlake, Texas; SCCA Mazda FE
FM, second: Robert Noell; Kure Beach, N.C.; Star Formula Mazda
FM, third: Owen McAllister; Mooresville, NC; Star Formula Mazda
SM, second: Preston Pardus; New Smyrna Beach, Fla., Mazda Miata
SM, third: Michael Ross, Fair Oaks, Texas; Mazda Miata
T4, second: Tyler Quance; Cypress, Tecas; Mazda MX-5
T4, third: Stephen Blethen; Allanstown, N.H.; Mazda RX-8