Timo Bernhard and Harry Tincknell qualify fifth and sixth for Saturday's Petit Le Mans
IRVINE, Calif. (October 11, 2019) – The third row for the 22nd Motul Petit Le Mans will be locked out by the pair of Soul Red Crystal Mazda RT24-Ps.
In qualifying, held Friday afternoon, Timo Bernhard drove the No. 77 Mazda RT24-P to fifth place in the Daytona Prototype international field with a time of 1:08.847 around the 2.54-mile circuit. Just behind in sixth place was Harry Tincknell in the No. 55 Mazda RT24-P, with a time of 1:09.204.
Mazda Team Joest has captured victories in the 2019 IMSA WeatherTech Sportscar Championship at Watkins Glen, Canadian Tire Motorsports Park and Road America. The team is looking to improve upon it's double podium in the 2018 Motul Petit Le Mans when the Mazda RT24-Ps finished the ten-hour race in second and third place.
The 22nd Motul Petit Le Mans will be shown live on Satuday, October 12 at 12:00 PM – 3:00 PM ET on NBC, 3:00 – 5:30 PM ET on the NBC Sports App and from 5:30 – 10:30 PM ET on NBC Sports.
QUOTES
John Doonan
Director, Mazda Motorsports
"While it is always nice to be at the front of the field and go for pole position, our biggest priority here throughout practice is to ensure that we have cars that are good for the race. We have to have two Mazda RT24-Ps that are good through the heat of the day but can also be able to take advantage of the cooler temperatures that we will get when the sun goes down. Last year we were second and third, and all of us are focused on improving that this year."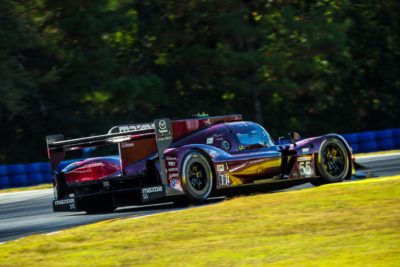 No. 55 Mazda RT24-P
Harry Tincknell
"This is my first Petit Le Mans. This track is really intense – it's a fast and short lap, it has a lot of rhythm. We've been sort of in the middle of the pack all weekend, but with our pace we are probably in a position to try some alternate strategies but it's a long race and anything can happen. Over the course of ten hours, the track can change – it grips up and as it goes into night, it cools down a lot and you can decide to set up for the heat of the day or hang on until the track comes to you at the end."
No. 77 Mazda RT24-P
Timo Bernhard
"I enjoyed qualifying a lot. It's the best moment for the race weekend in terms of fun because it is low fuel and the car has sticker tires. We are very close to fourth place, but we are not 100% happy with the car. A lot more was not possible – that was pretty much it. It was a good lap so we are not entirely happy with the result, but this we can change tomorrow. We have a good race car."