Ten hours of racing at Road Atlanta is final opportunity for Mazda to add to 2019 win tally
IRVINE, Calif. (October 10, 2019) – Ten hours of racing remain for Mazda Team Joest in the 2019 IMSA WeatherTech Sportscar Championship season, a season in which the pair of Soul Red Crystal Mazda RT24-Ps won a combined three races. Starting in the middle of the day and ending well after sunset, Petit Le Mans at Road Atlanta near Atlanta, Georgia is a challenging event with a high-speed track, a large amount of traffic to contend with and a large portion of the race run at night.
While the team is enjoying a strong run of momentum, with three wins in the last four races, Mazda Team Joest scored a double podium at Petit Le Mans in 2018 by finishing in second and third position. Mazda also scored the LMP2 class victory in 2009 at Petit Le Mans with Dyson Racing.
The first of the three consecutive victories for Mazda Team Joest came at the previous round of the Michelin Endurance Cup at the Sahlen's Six Hours of the Glen when the No. 55 Mazda RT24-P of Jonathan Bomarito, Olivier Pla and Harry Tincknell took the victory with the No. 77 Mazda RT24-P of Timo Bernhard, Oliver Jarvis and Tristan Nunez finishing in second place.
The same trio of drivers return for Mazda at Petit Le Mans. Bomarito and Tincknell will be looking for their third victory of the season, while Jarvis and Nunez – who will once again be joined by Timo Bernhard this weekend – are chasing their second. Bomarito, Pla and Tincknell are tied for third place in the Michelin Endurance Cup driver's standings, while Bomarito is fourth in the driver's championship with Jarvis and Nunez in fifth.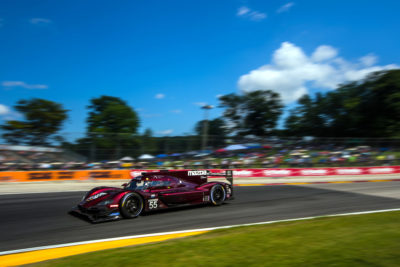 Motul Petit Le Mans will be shown live on Satuday, October 12 at 12:00 PM – 3:00 PM ET on NBC, 3:00 – 5:30 PM ET on the NBC Sports App and from 5:30 – 10:30 PM ET on NBC Sports. Qualifying will be streamed live on Friday, October 11 from 3:45 – 5:00 PM ET on IMSA.tv.
QUOTES
John Doonan
Director, Mazda Motorsports
"We have had, in many ways, what I would consider to be a dream season in the IMSA WeatherTech SportsCar Championship. Petit Le Mans is an event where Mazda has accomplished quite a bit including our double podium last year. Our stated goal has always been to deliver success for the Mazda brand and our fans, dealers and clients and even though we have won three races this year this group remains as hungry as ever to get the next one. I'm confident we have the cars and the drivers to capture another victory to end the season."
No. 55 Mazda RT24-P
Jonathan Bomarito
"Petit Le Mans is an amazing race with so much history. It's a very hard race in terms of managing traffic, staying up front, and then capping it with an all-out sprint in the dark at the finish. We have had a great second half of the season and will be aiming to finish the year on a high!"
Harry Tincknell
"I can't believe we are already in the last race – Daytona doesn't feel that long ago! It's been a great season with three wins, and we'll do everything to make it four at Road Atlanta. It's my first Petit Le Mans and I'm really looking forward to the race and welcoming Olivier Pla back to the No. 55 Mazda RT24-P. The track looks awesome and judging by Mazda's result last year and our continued improvement this year, we should be in the fight for victory."
Olivier Pla
"I am looking forward to getting back in the Mazda RT24-P, as the last time was in Watkins Glen and we won! I love this track and I have many very good memories at the circuit – it was where I had my first race in the USA and I also won this race in 2016. This track should suit the Mazda and I think it will be a great show for the fans as the competition will be very close, like it is every year."
No. 77 Mazda RT24-P
Timo Bernhard
"Petit Le Mans is one of my favorite races on the calendar. It's an old-style track that has a lot of character, and the race definitely has top-level competition. Going around Road Atlanta in the Mazda RT24-P is just breathtaking. We have seen recently great success for Mazda Team Joest, and we'll give it all to continue the great results and finish the season in style."
Oliver Jarvis
"Petit Le Mans is one of my favorite races of the year. I absolutely love Road Atlanta and it is always a thrilling race for the drivers and fans. After such a strong run of results it would be nice to finish the season on a high and we will be going all out for the win. Last year, we had both cars on the podium so we know it is a race that suits our Mazda RT24-P, but everything will have to be perfect for us to come out on top."
Tristan Nunez
"I'm excited to get this race week going. The Mazda RT24-Ps have been so strong all season and coming off great success in the second half of the season, I think we are in a great position to finish the year with another victory. Road Atlanta has always been a blast from a driving standpoint and has historically suited our Mazda RT24-P."