Tristan Nunez qualifies fourth, Jonathan Bomarito sixth for Monterey SportsCar Championship
SALINAS, Calif. (September 14, 2019) – Mazda Team Joest will start tomorrow's Monterey SportsCar Championship at WeatherTech Raceway Laguna Seca in fourth and sixth position.
Tristan Nunez was given the qualifying duties in the No. 77 Mazda RT24-P and set a time good for fourth in the Daytona Prototype international field. His teammate, Oliver Jarvis, was quickest in the first practice of the weekend and third-quickest in the second.
Jonathan Bomarito, who grew up in nearby Salinas, qualified sixth in the No. 55 Mazda RT24-P. Bomarito and teammate Harry Tincknell were the race winners at the previous IMSA race at Road America, the third in a string of three straight victories for Mazda Team Joest.
The Monterey SportsCar Championship will be broadcast live on Sunday, September 15 at 3:00 PM ET on NBC.
QUOTES
John Doonan
Director, Mazda Motorsports
"As always, our objective throughout practice is to refine the Mazda RT24-Ps to the point that we have a car that will be fast over a stint and easy on its tires. We know that WeatherTech Raceway Laguna Seca presents a big challenge for the drivers and engineers to find a balance between outright speed and speed over a stint, and while we are pleased with qualifying we believe both cars will be very strong in tomorrow's race. Every driver, engineer and crew member has one goal in mind and that's to continue the success that Mazda has enjoyed this year."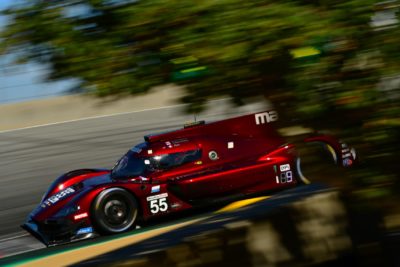 No. 55 Mazda RT24-P
Jonathan Bomarito
"It was a really tight qualifying session, and track position here at WeatherTech Raceway Laguna Seca is pretty important but what's really important is that we have a good car for the race. We are really happy with where we ended up with the setup for our Mazda RT24-P, and we can race forward from sixth place. Harry and I are a really motivated to keep this streak going for Mazda."
No. 77 Mazda RT24-P
Tristan Nunez
"Overall, it was a strong qualifying session for us. I think fourth place was the most that we could expect in qualifying, so we are happy that we got the most out of the package that we could today. The most important thing for us is having a car that is good for the race and we are confident in our car – we made big improvements in each session so I think Olly and I are in a really good spot for tomorrow's race and to push for our second win of the season."