Idemitsu Mazda MX-5 Cup to continue to race exclusively alongside NTT IndyCar Series
IRVINE, Calif. (August 22, 2019) – The field of Mazda MX-5 Cup cars will continue to thrill fans of the NTT IndyCar Series as Mazda today announces an extension of its sanctioning agreement with INDYCAR.
As part of that announcement, the Battery Tender® Mazda MX-5 Cup presented by BFGoodrich will continue to be operated and promoted by Andersen Promotions, continuing a relationship that began with the 2016 MX-5 Cup season. The series will support the NTT IndyCar Series on six weekends throughout the year.
"Everyone at Mazda is thrilled to see the Battery Tender® Mazda MX-5 Cup continue on the NTT IndyCar Series race weekends," said John Doonan, Director, Mazda Motorsports. "It is, in my opinion, some of the best racing in the world, with a fantastic group of racers and team owners who have created careers and businesses based on racing Mazda products. Part of the reason for that is the value for them in competing during the INDYCAR weekends."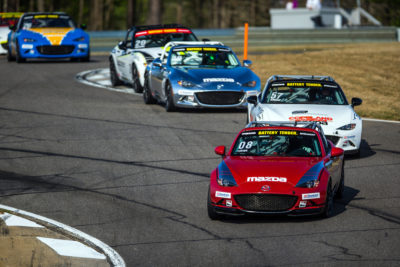 The Mazda MX-5 Cup series races are streamed live on MazdaMotorsports.com and available for replay on the Mazda USA YouTube Channel. For the 2019 season, MX-5 Cup racers are competing for $375,000 in scholarship and prize money from Mazda.
"Our team at Andersen Promotions is very excited to renew with Mazda and IndyCar for the Battery Tender® Mazda MX-5 Cup presented by BFGoodrich," said Dan Andersen, Owner and CEO of Andersen Promotions. "It's a very exciting series that puts on a great show, with a paddock full of fantastic teams and drivers. We are proud to be a part of it."
The MX-5 Cup has two races left on its 2019 calendar – August 30 – September 1 at Portland International Raceway, and September 20-21 at WeatherTech Raceway Laguna Seca.