Mazda will celebrate its racing success past and present at the Monterey Motorsports Reunion
In 1979, Yojiro Terada, Yoshimi Katayama and Takashi Yorino drove an RX-7 to fifth overall and first in GTU in the 24 Hours of Daytona, beginning a long string of successes for the RX-7 in headline IMSA competition, including five straight GTU titles, a GTO championship and 10 straight class victories at Daytona. That Mazda success continues today with the Mazda RT24-P Daytona Prototype international program run by Mazda Team Joest.
But for this weekend at WeatherTech Raceway Laguna Seca, it's the past that will be celebrated at the Monterey Motorsports Reunion, and especially the 50-year history of the International Motor Sports Association, which Mazda has been a part of for 49 years.
"I fell in love with the Mazda brand in '79 when the first RX-7s came to Daytona and won," says John Doonan, Director, Mazda Motorsports. "We went to IMSA races, and it was right at that time in the mid-'80s when the Nissan GTP program got kicked off, Bob Tullius and Group 44 were showcasing Jaguar, and there was the Corvette with Doc Bundy and Sarel Van Der Merwe – you started to see these factory teams. Porsche, of course, was pretty much customer racing, although a couple of those were considered factory teams. Mazda, though, didn't really have a factory effort until the early '90s."
First came the privateers racing RX-2s, RX-3s, and eventually RX-7s. The RX-7 propelled drivers to eight GT championships in the '80s and '90s. One of those was the Malibu Grand Prix-sponsored Mazda RX-7 driven by Tommy Kendall, a car Doonan says he remembers watching at Road America and Mid-Ohio. Kendall has been working with good friend and Corvette Racing crew chief Dan Binks to restore the car, which is the most-winning RX-7 in IMSA history. It's not in concours condition, but it's in the same condition as when Kendall last raced it, and Kendall will be driving it at the Motorsports Reunion.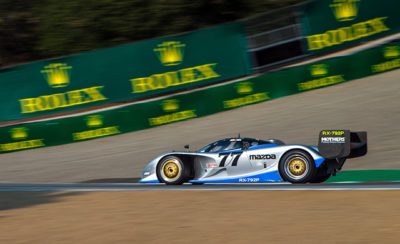 Another championship RX-7, one that Mazda has been bringing to the reunion for several years, will also be on track: the four-rotor, second-generation GTO RX-7 that Pete Halsmer took to the title in 1991. Joel Miller will be driving that car, in addition to another race car that grew out of that program and the 787B Group C and Le Mans program, the RX-792P. The RX-792P was Mazda's first IMSA-specific prototype, and while the program ended after only one season, it in many ways it set the stage for Mazda's current winning prototype program.
"The chief mechanics and team manger for the weekend will be myself and [Mazda North American Operations Vice President] Robert Davis," enthuses Doonan. "Robert is a key part of our executive team, and in his spare time, he's always liked working on these cars. We're trying to celebrate what has been an amazing journey for us in IMSA and celebrate some key milestones. We have each of the decades represented and it should be a real blast."
Doonan goes down the roll of those who contributed to Mazda's early IMSA success, such as Jim Downing, Roger Mandeville, Amos Johnson and Kendall, who went on to win several Trans Am titles and race GTP cars in IMSA. Downing raced and won in IMSA Lights in his Mazda-powered Kudzus. It illustrates, Doonan says, the launching platform Mazda has been for a surprising number of successful racers, as it continues to do today. 
"Guys like Dave Lemon, Dave Jolly and Joe Varde, who is still a race strategist in IMSA and an engineer, raced Mazdas. Bill Auberlen and Scott Pruett; their first IMSA races were in Mazdas. And there's Joey Hand, John Edwards, who's now driving the Rahal BMW, and Connor de Phillipi, who is also in a Rahal car. I think more than the casual observer knows, Mazda, albeit a small-market-share player in the auto industry, has played a key role in at least being a springboard for a lot of drivers' careers. 
"You start looking at a cross section of the grid, and so many of these drivers got their start with Mazda. We've been really proud to provide those kinds of platforms and be a springboard for these racing careers."
The RX-792P will run in a special class for IMSA prototypes at this weekend's Monterey Motorsports Reunion. The GTO and GTU RX-7s will run in an all-GTO/GTU class. In addition, Mazda will have several historic IMSA cars along with the current RT24-P and a collection of road cars on display at the event.