From business school to MX-5 Cup, Carter is making the most of his opportunities
Given his performance in Spec Miata in recent years, it's little surprise that Michael Carter was immediately competitive in the Idemitsu Mazda MX-5 Cup presented by BFGoodrich. Halfway through his rookie MX-5 Cup season, Carter has nothing but top six finishes in six rounds of including a podium in Round 3 at Barber Motorsports Park while being enrolled fulltime at Georgia Tech.
Now he's looking for wins. Fresh off an SCCA U.S. Majors Tour race weekend at Mid-Ohio Sports Car Course that he ran to prepare for the MX-5 Cup race later this year (and where he had three second-place finishes, one in Spec Miata and two in T3 driving the MX-5 Cup car), Carter took part in the MX-5 Cup races at Road America this past weekend, finishing sixth and fifth.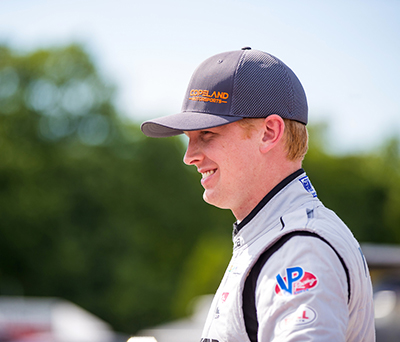 Carter says he's pleased with his performance so far, and the support he's received form Mazda. He notes that Mazda helped him get his MX-5 Cup car on an episode of Jay Leno's Garage, where Leno and Carter's fellow Shootout contestant Loni Unser drove it. He's also appreciated some help on the public relations side from Mazda Motorsports PR guru Efrain Olivares.
"He's been really helpful as well as being easy to talk to. He made everything easy. Before COTA he sent me an e-mail and said, 'This is what you've got to do.' He had set up some interviews and it makes you feel good about yourself," he notes, before mentioning additional things Mazda personnel has done that make a big difference, like a text from Mazda Motorsports Director John Doonan after Carter was crashed out of a race at Barber.
Carter says beyond that, his first season of pro racing in MX-5 Cup hasn't produced too many surprises thus far. The one thing he is learning to deal with, and really likes, is the longer races; every race is 45 minutes, compared to club races that can be as short as 25 minutes and usually max out at 35 to 40 minutes. 
"When you get down to the last 10 or 15 minutes [of an MX-5 Cup race], the cars start to fall off and you can really tell who's got a good car and who doesn't; who tuned for the long run and who missed it by a little bit," he explains. "At Barber, I think that was really profound. When it got down to the end, some people really fell off. The Copeland cars, myself, and Bryan [Ortiz] seemed to wake up. 
"As the race goes on, the field gets more spread out, unlike Spec Miata," Carter notes. "It puts that long run at a premium. The first race at Barber, I think my nerves got to me and I overdrove the car a little bit, and at the end of the race I didn't have the pace. The second race I went into with a different mentality, and at the end the car was really good, really fast."
He says he likes the longer races, except when he's up front and realizes there's still half an hour to go; conversely, though, if a driver is starting sixth, he or she has 45 minutes to advance.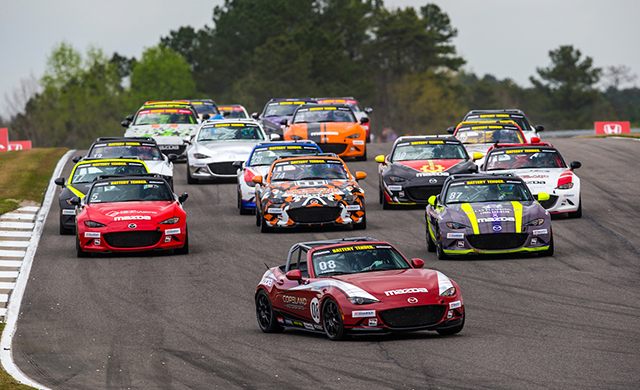 Although he has already done enough races to qualify for the 2019 SCCA Runoffs, between running Mazda MX-5 Cup and school – he just wrapped up his first year studying business at Georgia Tech, where he made the Dean's List – he doesn't think he'll be able to compete at the event. And while balancing school and racing isn't easy, there are lessons learned in motorsports that will help him school, not the least of which is having to produce two business cases in the two Mazda shootouts in which he has competed.
"I'm pretty early in my studies – I'm still working on some core classes, but I've taken a few business classes [and] a legal aspects class," he explains of his time at George Tech. "So far, I think I've learned more on the real-world side of things, such as dealing with contracts – going through that and the whole approval process and seeing it firsthand is a good thing at my age. That will start to change in the next couple of years as I dive into more business-related classes, but I also think they're going to feed off each other as I move along in my studies."
So school and the fact that MX-5 Cup ends its season on the West Coast with races at Portland International Raceway on Labor Day weekend and the finale at WeatherTech Raceway Laguna Seca three weeks later likely means no SCCA Runoffs for Carter. After all, that's a lot of time away from classes since Carter and his dad prep and transport their own car, with Copeland Motorsports taking care of it at the track.
Both the Portland and Laguna races are with the NTT IndyCar series, as are all the MX-5 Cup races, and that's an aspect that Carter thinks is pretty awesome. 
"The driver autographs are kind of fun, signing autographs and talking with the spectators," said Carter. "That's a pretty cool part of it, being on the pro weekends and being there with IndyCar is pretty neat."