SCCA Majors road racing, ProSolo in Texas and RallyCross National Tour
The SCCA Southeast Conference U.S. Majors Tour resumed at Charlotte Motor Speedway's roval, joining the Atlantic Pro Cup (APC) and ECR enduro on Saturday evening, and thus the "Daylight Into Darkness" moniker for the weekend.
For the enduro, Charles Mactutus won overall in a Spec Miata, taking the APC win as well. Second overall and first for the ECR enduro was Thomas Hart, driving a Touring 4 MX-5. Mactutus followed up that win with the Spec Miata SCCA Majors win on Sunday, splitting the class with Saturday winner Evan Karl.
Although rain on Sunday kept many competitors off the track, several racers managed to gather double victories at Charlotte, including Jeff Dernehl in GT-3 (RX-7), Steve Bertok in Touring 4 (MX-5), Raymond Philibert in Super Touring Under (Miata) and Lee Rackley in Formula Enterprises. In addition, Steve Eckerich took STL on Saturday in an RX-7, Paul Schneider and Eric Cruz split victories in FE2, Al Pierce won on E Production on Sunday in an RX-7 and Jacek Mucha took P1 on Sunday with Mazda power.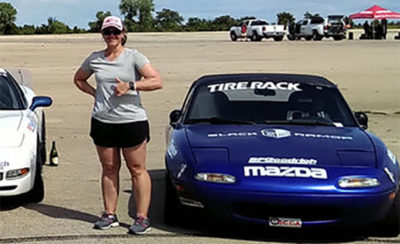 Mineral Wells SCCA ProSolo
Also this past weekend, the Tire Rack SCCA ProSolo National Series visited Mineral Wells, Texas, and many of the names on top at the previous event in Lincoln, Neb., were once again headlining in Texas, especially some locals.
In one of those cases, the Whiteners from nearby Fort Worth did well but had some drama to go with their performance. During Kim Whitener's Saturday morning runs, her STS Miata's differential broke on her second run. Before the class was cleared from impound, the diff had been replaced and the car had all four tires back on the ground and ready for Gerry Terranova to pilot the car to the win in Street Touring Sport. 
And it must have been a good differential as Whitener took over the Ladies Class 3 lead during her afternoon runs. Along with her class win, she went on to win the Ladies Challenge over Nicole Wong. This was Whitener's second Ladies Challenge win in as many weeks.
Husband David won Street Touring Roadster in a 2016 Miata, joining other Mazda winners Darrin DiSimo (C street, Miata) and Todd Roberts (Race Tire Index 2, Miata). 
SCCA RallyCross National Tour, Utah
In an unusual circumstance, the Utah round of the DirtFish SCCA RallyCross National Tour the previous weekend was held in two different spots. While the weather was good, recent rains left the planned location too wet and muddy, so the course was built in an alternate locations for Saturday's runs before another course was created for Sunday in the original location.
Despite only having two entrants, Stock Rear had one of the best battles of the weekend with Brendan Schweitzer and Joshua Fowler battling it out in a shared Miata. Schweitzer was a little slower out of the gate, six seconds behind after first runs; but as the weekend progressed, he became more confident and caught Fowler, taking over the lead on fifth runs. The battle that ensued was close and heated as the drivers swapped the lead back and forth. The final swap happened on their very last runs with Schweitzer taking the class win by a mere 0.416sec. In another all-Miata class, Brianne Corn, the reigning Modified Rear National Champion, walked away with a convincing win by almost 15 seconds in the class of two.
The next round of the RallyCross National Tour takes place this weekend at the Ross County Fairgrounds in Chillicothe, Ohio.