Mazda racers will enjoy continued support of GT-3 Challenge, bolstering of the NC MX-5 and enhanced contingencies
Mazda Motorsports is making sure that competitors in SCCA are supported, and that includes everything – road racing, autocross, Time Trials and Track Night in America participants. All are eligible to join the Team Support Program, and those in club racing and autocross will be eligible for contingencies in certain events and championships.
"Based on the early events such as Homestead and Sebring, we continue to see strong participation by our racers, which is something we're very proud of," says John Doonan, Director, Mazda Motorsports. "We kicked off some exciting new initiatives last year, such as the GT-3 Challenge, which we kicked off at the American Road Race of Champions in the fall. Our hope is to see continued growth in that area with our customers who maybe wanted something that's not spec, but something they can tinker with. I suspect we'll see additional growth there."
The GT-3 Challenge continues, with the next race happening at the big, two-conference Hoosier Super Tour at VIRginia International Raceway. Another initiative that Mazda Motorsports is undertaking is trying to increase participation for racers competing in the NC MX-5 in Touring 4, with the hope of eventually creating a spec class for the car. And Spec Miata continues with a lot of technical support for the new Penske shocks and a new parts points contingency program aimed at NA and NB Miata racers.
For SCCA Road Racing contingency, competitors can earn up to $750 for a Hoosier Super Tour win, or $600 for a U.S. Majors Tour victory, depending on the class and the total number of competitors. NC MX-5 racers also have the opportunity to earn bonus parts reward points. An SCCA Conference championship could net a racer up to $1,250, and a Divisional championship up to $750. Mazda also continues to pay deeper into the field, as far down as fifth place.
Mazda continues to offer some of the best contingencies for winning at the National Championship Runoffs, this year held at VIRginia International Raceway. A win in GT, Production, Super Touring, Touring or B-Spec is worth $5,000. In the formula and prototype categories, $4,000 is the top prize. Plus, competitors who win a Conference, Division or Super Tour championship are eligible for tow fund money to help defray the travel costs of competing at the SCCA Runoffs.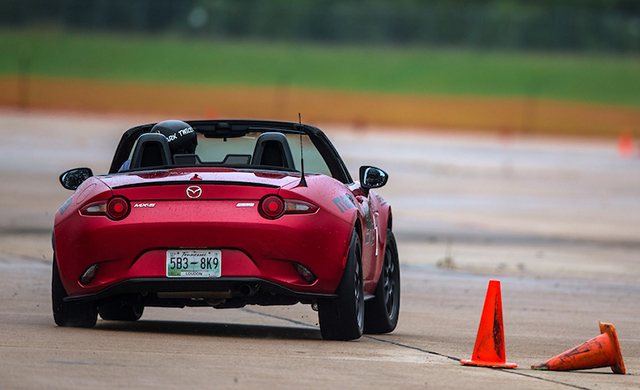 Solo competitors will enjoy the same deep payouts, up to sixth place for SCCA ProSolo, Match and Championship Tour events, with the winner earning up to $250. An SCCA National championship in Lincoln can be worth $800, as could a ProSolo points title. A new feature is the Women's Initiative at the Solo National Championships, a feature of which is that any female Mazda competitor finishing second through 10th in an Open class will receive a $150 bonus.
Mazda Motorsports will also be offering contingency for special club racing events such as the American Road Race of Champions and the Pacific Coast Road Racing Championship. Plus, there are special initiatives like the GT-3 Challenge, and the Penske Shocks bonus for Spec Miata competitors. See the contingency document for full details on the various contingency awards available.
While Time Trials competitors are not eligible for contingency, they, along with Track Night in America participants, are eligible to be Team Support Program members. That enables those drivers to receive discounts on competition parts and the ability to buy OEM parts through Mazda Motorsports. Team Support Program members also receive a discount on the purchase of a new Mazda car.
Mazda has long had a participation rate of more than 50 percent in SCCA road racing competition, and it's looking to up that to 60 percent. And, of course, the various generations of Miata are a staple in autocross. Mazda Motorsports continues its dedication to SCCA competitors with an eye on growth.