Andy Hollis is preparing a 2019 MX-5 for SCCA Time Trials competition, and here's what he's found so far
Andy Hollis had won a lot of autocross championships, and it was time to start looking for new challenge. About the same time, a new membership-based track was built near his hometown of Austin, Harris Hill Raceway, that offered affordable, all-you-can-lap track time. As he started spending more time on track with some of his autocross cars, he began to yearn for more power. That, along with observing some friends compete, led him to One Lap of America competition. That took him to the fledgling SCCA Time Trials program and his current project, an ND2 MX-5 he's preparing for the Sport 5 class.
"When I get on the track, I'm always looking for more time," says Hollis of his attraction to Time Trials. "I'll go down there and run two sessions in the morning during the week when there's hardly anybody there, just trying to find a little more time. What's cool to me about Time Trials in the actual competition mode is it's a lot like autocross in that you have to get it done right now. You have to turn the car on, turn yourself on, and put down a lap."
Hollis had built a 2016 MX-5 with the goal of making it as competitive as possible for autocross in the C Street class and, with few changes, as quick as possible on track, and do that without compromising the streetability. "Every change was made with an eye toward s slight compromise in all directions so as to try to achieve all three goals," he explains. Hollis chronicled the build and process for Grassroots Motorsports magazine.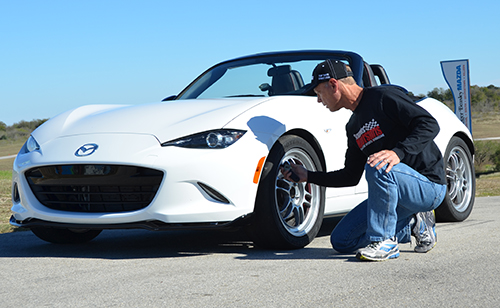 Enter the ND2 MX-5, with a higher rev limit and the ability to use the extended RPM range. Between the improvements to the MX-5 for 2019 and the evolution of the SCCA Time Trials program, Hollis had his next project. He found the 2019 MX-5 he wanted and got to work.
"I'm getting away from keeping the car legal for C Street autocross and starting to do some things that will make it better for the track and, particularly, the Sport 5 rules in SCCA time trials," he says. Sport 5 is the class that John Hunter won in his ND1 Miata at the inaugural Tim Trials Nationals last September.
Some key differences in the SCCA autocross Street category rules and the Time Trials Sport category rules are allowances for ECU tuning, changing the rear swaybar and alternate springs. Lowering the car gives it more camber, and more camber is almost always a good thing for competition purposes.
"First thing I did, like any engineer, I wanted to know what I was working with. I wanted to see how much better an ND2 is than and ND1, pure and simple. So I took all the parts off my ND1, put them on the ND2 and went to the track. Because at Harris Hill Raceway you never really get below 4000RPM, I basically drove some sessions shifting like an ND1 and got some baseline times. Then I went out for a couple of sessions and shifted it like an ND2 using the extended range and the extra power up top and got some times. The next thing I did was put a rear swaybar in it, which is not legal for C Street, but it solves a bunch of problems: It makes the car more neutral and it helps the body roll situation so I stop chewing up tires," he says.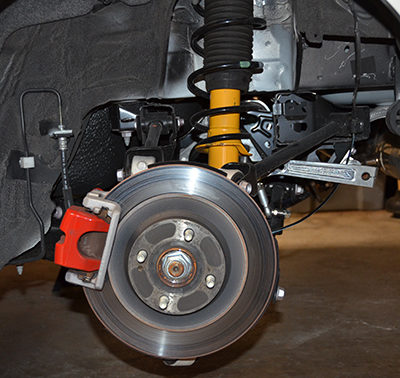 Hollis will have to change the swaybar, as the rules dictate the car must use the same type swaybar as it had, and he was using an adjustable spline-type swaybar to find the correct rate. He has added Flying Miata springs, which he likes better than some of the other options because the rear isn't as stiff and he likes a touch of understeer on the track.
"That will address pretty much all the suspension stuff. After that will be adding some more power. Nobody yet makes a tune for it, but I expect that to happen shortly. If nobody does, I'll do it myself," says the former gaming software developer turned race engineer. "Then, at some point – all of the track driving in this car has been at Harris Hill, and as it's my home track and very familiar with it, I'm comfortable driving there without a rollbar. But I'm not going anywhere else without a rollbar. It will get a rollbar and likely some racing seats to go along with it."
Hollis plans to make it to a couple of the Time Trials National Tour events in 2019. He'll again be chronicling the build and results for Grassroots Motorsports. MazdaMotorsports.com will check back in with him after he gets his first event in the car.